[dropcap style="font-size:100px; color:#992211;"]T[/dropcap]he night did not start well. After a hot, tediously lengthy journey into London, my name had been omitted from the press list.
Indeed was it not for the generosity of a guest-lister with a spare 'plus one' this review may never have been written.
One Jack Daniels later, Vince Ray's Loser Machine took the stage. It doesn't take more than two people to make a rockin' good racket if it's done properly and two was certainly sufficient to make the growing crowd shift from the bar to the front of the stage. Although best known as the leading rockabilly artist with his traditional tattoo-style designs (which the Rev later praised), Vince can also play a mean red Gretsch and belt out songs of lust, love and motorbikes. A few tears were shed as he growled I Was a Teenage Werewolf in memory of dearly departed Cramps drummer, Nick Knox.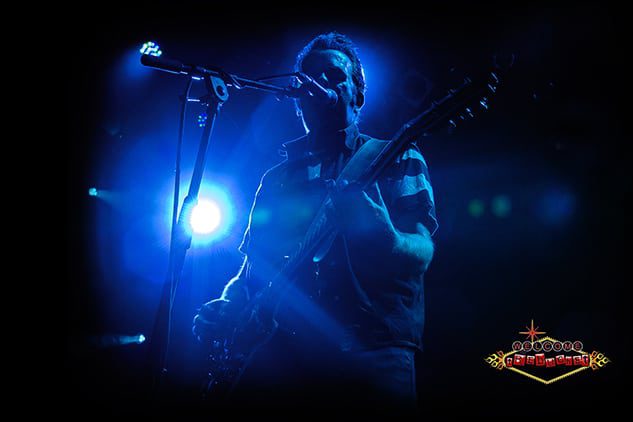 Later Vince told us, "Supporting the Reverend Horton Heat is always a blast. I've been lucky enough to provide artwork for him for a while now and he's always been a gent, a true Southern gent with a whisky and cigarettes drawl that flows at a nice steady pace."
Reverend Horton Heat have long combined the rockabilly/psychobilly staples of a twangy Gretsch and frenetic slap double bass with their own trademark smooth, laid back vocals.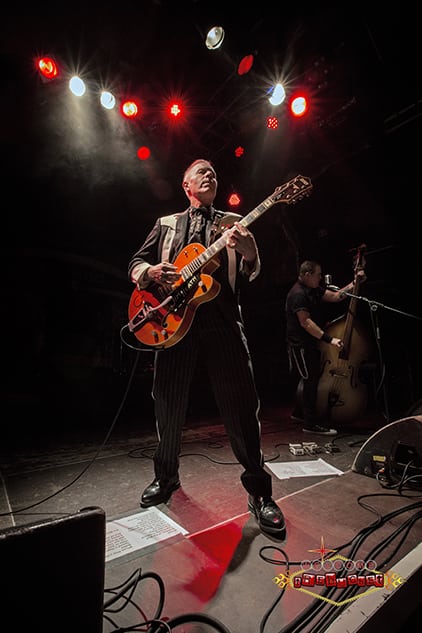 The Rev himself, Jim Heath, who croons, plays guitar and generally holds court, brings his Southern States influences of country, swing, surf and bluegrass, with a generous slug of firebrand punk rock. Accomplished, polished and never flustered, the band switch from feverish instrumentals with new drummer R.J. Contreras and long-standing slap bassist Jimbo driving the rhythm, to the darker, plaintive, whiskey soaked ballads with the Rev's voice and easy strumming sailing over the throng.
Keyboardist Matt Jordan is a welcome addition. With near identical haircuts, apparently young Matt is often mistaken for the son of the preacher man himself.  Sporting a spiffy velour jacket over a short-sleeved shirt and bow tie, Matt looked the epitome of the 1950s fresh-faced, slightly goofy, high school geek who no doubt ends up winning over the cheerleader with his wild rock 'n' roll key playing, using not just fingers but wrists and elbows too, particularly during an enthused rendition of Whole New Life.
Speaking of fingers, the Rev didn't spare the anecdotes, introducing the sing-along Jimbo Song with a tale of a grunge night in Seattl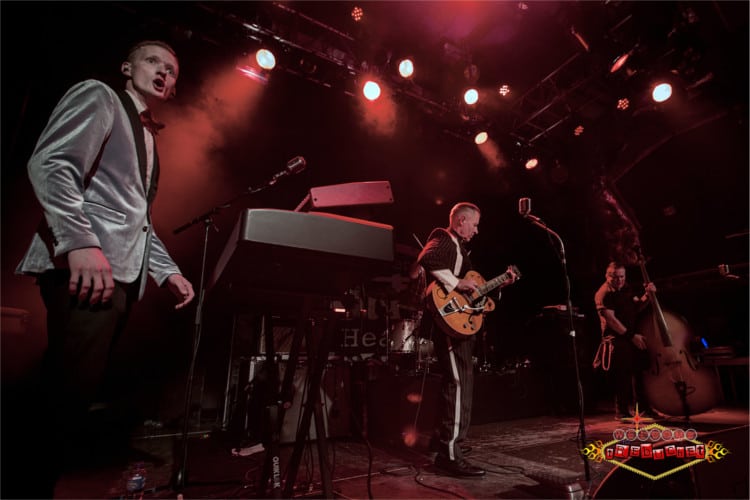 e where slap bassist Jimbo sliced his finger to the bone on a broken string during Psychobilly Freakout but carried on playing, splattering the front row with blood. Fortunately the same number didn't result in any exchange of bodily fluids on this night, save some exciting sweaty jostling down the front. A few songs later, the Rev jumped onto Jimbo's no-longer-upright bass, with neither missing a note. Then they were swapping instruments as Jimbo had a Chuck Berry guitar moment on Little Queenie. The Rev recounted when he first paid Jimbo a visit to discuss him joining the band. The deal was sealed when the Rev spotted that the first record on the first shelf of Jimbo's extensive collection was Chuck Berry.
[youtube https://www.youtube.com/watch?v=H96XcNWKZVg]
As the temperature picked up, they rattled through crowd favourites, including the deliciously dirty Let Me Teach You How to Eat, the break-up anthem Galaxy 500 and a spunky rendition of the Motorhead classic, Ace of Spades. Then before you could drawl It's Martini Time, it was over all too quickly. That's not to say they didn't earn their crust. Despite the story telling banter they got through a lengthy set list but a band with a back catalogue this strong would have to play half the night to even scratch the surface. As they move on to a smattering of gigs on the continent and then months of dates back Stateside, let's hope that they don't make us wait another three years before they grace these shores again.
Review by Sarah Corbett-Batson. Reverend Horton Heath played at O2 Academy Islington on Thursday, 5th July 2018.

All photos copyright Carl Byron Batson – not to be reproduced or used without express prior written consent.

Photographer, published poet, former party animal, body builder, grave robber
to the stars and renowned chainsaw juggler, Carl can often be spotted on his
Harley Davidson pretending to be in Terminator 2. He is also frequently seen in
the press pits of old London town, camera in hand, avoiding being hit by bottles
of wee and crippling his opposition with secret Kung Fu moves.