[dropcap style="font-size:100px; color:#992211;"]P[/dropcap]anic Room had something of a troubled 2013.
Several years hard work paid off with a growing reputation and audience for their powerful and sophisticated mix of rock, folk, jazz and metal. Then their year began with the departure of the lead guitarist, founder member Paul Davies.
While Morpheus Rising's Pete Harwood did a sterling job standing in on their already-booked tour, his commitments to his own band ruled out any longer-term involvement. So they initially announced that they'd be writing their fourth album as a four-piece. Then around the time the band were ready to enter the studio they announced the recruitment of Adam O'Sullivan, bringing the band back up to full strength.
In a rock band the lead guitarist can often be as important as the singer, so how would the new-look Panic Room sound?
A lighter, more pared-back feel
Hard rocking opener "Velocity" with its spiralling guitar riff is close to the feel of their last album, but with the next few numbers a rather different sound emerges. It's a step away from the rich wall of sound that characterised the last couple of Panic Room albums, with a lighter, more pared-back feel that has as much in common with Panic Room's acoustic side-project Luna Rossa than it does with 2012's Skin.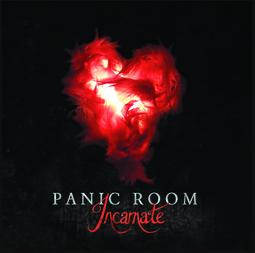 In places there are echoes of the début Visionary Position and the singer-songwriter feel of Anne-Marie Helder's 2006 solo record The Contact. It's notable that Helder has sole songwriting credit for half of the ten songs.
Spotlight moments
There are plenty of moments where the space in the mix gives individual members the chance to shine. There's some inventive drumming from Gavin Griffiths, and some great understated Fender Rhodes from Jon Edwards across much of the album. Adam O'Sullivan's guitar isn't always prominent, though he does have his spotlight moments. Much of his playing has a strong jazz flavour, with some great bluesy rippling flourishes. A good example is on "Nothing New" where his guitar work duels with some equally jazzy piano runs from Jon Edwards. The one moment towards the end of the album where he cuts loose with a rock-style solo, it's superb.
Yet again, Anne-Marie Helder's vocals are everything you'd expect from someone voted Best Female Singer by readers of Prog magazine, hitting the sweet spot between melody and expressiveness.
Much of the strongest material comes in the second half of the album. The atmospheric "Into Temptation" with its eastern-sounding vibe is reminiscent of parts of "Endgame" from the band's début. The following three numbers "All The We Are", "Searching", and the soaring "Close The Door" all demonstrate Helder's talents as a singer-songwriter.
Massive Attack crossed with late-period Led Zeppelin
The album closes with the dark and brooding "Dust", an ambitiously progressive piece sounding like Massive Attack crossed with late-period Led Zeppelin, building on a repeated motif keeps going round and round in your head even after the album has finished playing.
At this stage in their career, Panic Room could easily have attempted a retread of the well-regarded Skin. But that would have been a mistake, and they should be applauded for not simply repeating a successful formula. It's not quite perfect; the album might have benefited from one or two out-and-out rockers in the vein of Skin's "Hiding the World" or Satellite's "Dark Star" to add variety and raise the energy level. But it does feel like the beginning of a new chapter for the band.
This is an album by a band not afraid to try something slightly different, and there is much to like about it. It's still unmistakably Panic Room, but their sophisticated sound ought to have crossover potential beyond the band's current rock audience.
[button link="http://www.panicroom.org.uk/home.html" newwindow="yes"] Panic Room[/button]