Looking for art in London's late night galleries.
A man in the Yeti suit with glowing eyes is rocking back and forth. The man is Alexander Tuckeri and he's been like that for twenty minutes. His audience in Tintype gallery, hopeful art lovers clutching free beers, wait patiently. He eventually stops rocking and bows. As the ripple of polite but bemused applause carries through the crowd I wonder if anyone truly feels fulfilled and enriched by the experience. The Yeti suit and 'music' which had us all flocking in from the street seemed to promise so much. Now I just feel a bit cheated. I turn and join the queue for the free bar…
We're here for the beer…
This was October 2010, and it was not the first dubious performance experience I have had during Time Out's First Thursdays. First Thursdays started as an evening art crawl round London's East End for local artists, curators and students. Now it's becoming a monthly ritual for the wider cultural industries crowd (AKA hipsters).
As the tradition becomes more popular some of the originally alluring aspects are starting to fade. Instead of relying on the quality of that month's show, it feels like galleries are now increasingly relying on interesting complimentary beverages (sake, anyone? I mean really, anyone?) and gimmicks to draw in the crowds.
Any Yeti will do.
This is not to say there are no quality performances to be had in the East. The German-based artist Angie Reed once gave a synth/rap/story show at Vegas Gallery that got even the gloomiest of hipsters shaking their razored hairdos. My point is that galleries seem to care not so much that they have a great performance as simply A performance.
Performance means noise or action, which means curious punters come flocking. The gallery therefore gains a kind of kudos for having so many people that night. The artist no doubt feels chuffed. However, this usually means that that month's actual exhibition is in danger of being ignored. Those who actually want to see it have to jostle for space with countless fashion students trying to find the best piece to pose next to, disinterested media professionals who crowd around the free bar, and confused couples on an 'unusual' date staring at a Yeti.
Call me old fashioned, but what I'm looking for in a late evening in a gallery is a chance to appreciate the art in an unusual atmosphere. Performances are great, but I'd prefer that they complimented, not obscured the art around them. It seems these days I am on a hunt for those art spaces which create the right balance, to provide attendees with an enjoyable and unusual evening where art, not beer, are fore grounded. Spaces like Rocket Gallery, Kate McGarry and East Gallery have never disappointed. However, I fear they are a dying breed.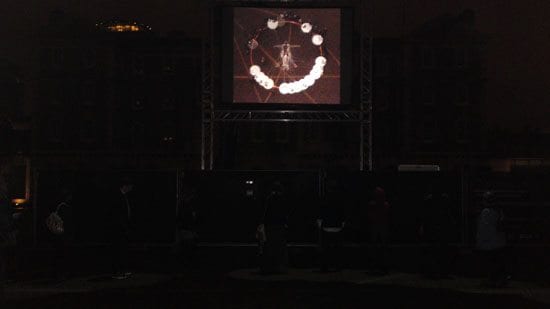 How the Big Boys get it right.
What started with a minor trend in the East has been adopted by almost every other major museum in the capitol (and by some smaller galleries in the West). The two Tates, the National Gallery, the V&A and others all now have monthly or weekly 'late' evenings.
Admittedly the bar isn't free and you still have to pay for temporary exhibitions but the concept is the same, 'Let's make art inclusive'.
The ambience of these evenings is markedly different from those out East. Although generally crowded, the 'the-next-gallery-may-have-a-better-show-and-maybe-some-sort-of-whisky' look isn't painted on every face you see. One spends more time appreciating familiar pieces or the temporary exhibitions in a relaxed manner.
These nights, like those out East, also rely on performance to draw in the crowds. Of course, they have much larger budget to ensure quality. They, however, still have what the East used to be renowned for (despite budgetary constraints) a sense of theme, consistency and connectivity. They align the evening's performances with the space and the art so that each part can be appreciated. This is what keeps people coming back each month.
The best of these for me so far was Congregation by Media artists KMA, Kit Monkman and Tom Wexler at the Tate Britain in October 2010. This interactive outdoor crowd-bonding performance used a motion sensitive camera on a 50 foot crane to relay the outlines of the participants to a giant screen. This encouraged people to place themselves in interesting patterns, with the Tate Britain behind them. There was a kind of joy to be had from screaming 'Hippy circle now guys!' in the shadow of the solemn architecture.
This photography related experience encouraged us all to ponder the Eadweard Muybridge major retrospective anew. I suppose this is my point. I am not saying that performance art must necessarily be subservient to exhibitions. Rather that when billed for an evening which is meant to also include time for seeing the semi-permanent art, it should intrigue and encourage instead of initially exciting but eventually baffling.
There is still Hope
I am not giving up on the East End galleries just yet. They started a trend and should therefore be watched to see if they produce an even better one. Those galleries which do get it right can give people some of the most rewarding art evenings around, especially because one feels special in having found it. This sense of chance and exclusivity could never be felt in the larger institutions; the expectation for excellence is always present. Despite the abominable snowman, I still firmly believe that late art can be unusual, enriching and worth the effort, it's just a matter of tracking it down.
Challenge accepted.