[dropcap style="font-size:100px; colour:#992211;"]A[/dropcap] somewhat more laid-back affair than we are used to was on offer at the Islington Assembly Halls. On a beautiful tranquil evening, we joined a serene diverse queue of patient people seeping in through the venue doors like Sandalwood smoke snaking through an open window, not a Slipknot t-shirt amongst them.
The London Jukebox had outdone itself; they say they bring a World of Music to London and they absolutely do.Kefaya, playing as a trio were on stage as early support (barely enough time for our customary Jack and Coke) and executed their set perfectly.
"If you closed your eyes you would swear Jim Morrison
was about to whisper the lyrics to The End over the mixture of Eastern mysticism, Mediterranean passion and jazzy undertones".
Kefaya provided a beautiful and exciting prelude to the main event and turned more than a few of us on to some new music for our collections.
The audience stood to give respectful and appreciative applause as Hariprasad Chaurasia made his way on stage. Flanked by three other musicians Chaurasia, despite his advancing years,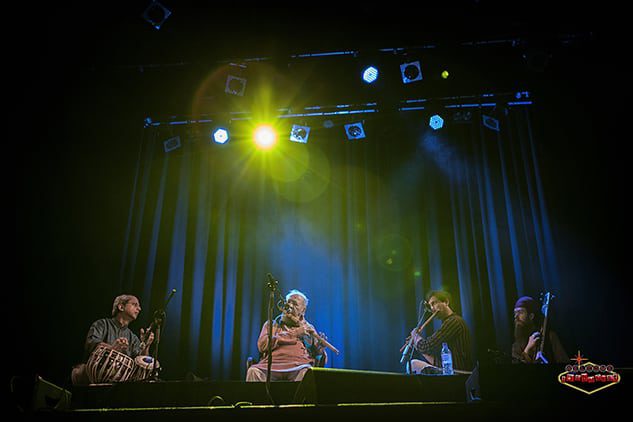 gave off the peaceful yet authorative energy of a true guru. I got to feeling we were somehow transported back to somewhere like Notting Hill in the mid-sixties (before it was full of those hipster types, just hippy types), perhaps to one of those John Peel hosted happenings where a young Marc Bolan and Steve Peregrine Took would be sitting cross legged, surrounded by joss sticks and plucking out sections of 'My People Were Fair' with an erratic yet mesmerizing Tabla accompaniment.
It is said Hariprasad's father wanted him to become a wrestler but as Raxa Mehta stated in her eloquent introduction, "Wrestling's loss is indeed music's gain".
It is also said Hariprasad was schooled in the musical art by Annapurna Devi, daughter of Baba Allaudin Khan. According to legend, she only agreed to teach him if he was willing to unlearn all that he had learnt up to that point.  The other version is that she only agreed to teach him after he took the decision to switch from right-handed to left-handed playing to show her his commitment; Chaurasia plays left-handed to this very day.
Left or right, the Bansuri sounded sweet with a tone and depth only a true master could achieve. The audience were transfixed, barely breathing as to not disturb the flow of joy that oozed from the stage. Although there was an interesting lack of dynamic expression, there were moments when the thought provoking and at times hypnotic 'call and response' brought a tear to the eye. It made one think of the passing years, loss of loved ones, of children growing up and stepping out into the world and of the beauty that surrounds us which is so delicate and can so easily be destroyed. All this mixed with some very arousing 'teentaal' and 'jhaptal' meant this delightful and enlightening evening would not soon be forgotten and we left content to wear stars on our brow.
[youtube https://www.youtube.com/watch?v=a3jeKgw3xVw]
Review by Carl Byron Batson and Candace Arizona Gratton.  Hariprasad Chaurasia played Islington Assembly Halls on 17th June 2018.

All photos copyright Carl Byron Batson – not to be reproduced or used without express prior written consent.

Photographer, published poet, former party animal, body builder, grave robber
to the stars and renowned chainsaw juggler, Carl can often be spotted on his
Harley Davidson pretending to be in Terminator 2. He is also frequently seen in
the press pits of old London town, camera in hand, avoiding being hit by bottles
of wee and crippling his opposition with secret Kung Fu moves.