[dropcap style="font-size:100px; color:#992211;"]M[/dropcap]ariachi music is the best thing ever.
As a lowriding music vehicle Mariachi El Bronx III feels fun, dangerous and has the sort of exotic flavour that leaves timorous liberals quaking with moral uncertainty. What started as a challenging diversion from the day job for conscious punks The Bronx is, with the release of the third album, something its own. Whether churlish or not it's not uncommon to see people remark in surprise that 'These guys are also in some other band?'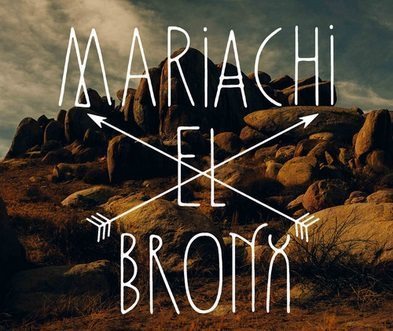 With this third record they've started to include electronic aspects and perhaps this quiet revolution shows a band that has taken a form further than they found it. In fact there is little to criticise here as each aspect of the band's production is mixed to perfection and balances easily, allowing the perfect foundation for Matt Caughthran's concise vocal performance.
To what extent the experienced heads of ATO records, founded by folk-jam-pop juggernaut Dave Matthews, have lent their weight to this record remains uncertain. However, shades of the Beach Boys, Sublime and even traces of Elvis Costello ring through this gem of a record. Standout performances include psyche-ballad 'Wildfires', symphonic come-down 'Eternal', the hyperactive paranoia of 'Raise the Dead' and the album closer 'Valya' (which recalls Brian Wilson's headiest love trips). With such delights the lack of dark tones or weird violence certainly places this record within the commercial realm. But coming from a version of The Bronx, whose strident politics and violent bombast typify them, this difference is obviously one of those challenges they've placed on themselves – to create a meaningful record without using overt shock.
The band has matured into making Mariachi El Bronx music and they're now much more accomplished than on previous records, to the extent that it doesn't feel pastiche. Merely walking in Cuban heels isn't the challenge any more. Here they've taken the vernacular and made something contemporary and lasting. 'Wildfires' stays with you. From the soaring violin melodies to the brash horns, the warbling leslie-speaker pedal tones lead inexorably to an emotive chorus which evolves throughout the song until it 'destroys everything in it's path'.
Mariachi El Bronx III is one of those records that is a pleasure for the musically literate and their attractive accomplices alike – highly recommended and stockingworthy.
Out now on ATO records
[button link="http://www.mariachielbronx.com/" newwindow="yes"] Mariachi El Bronx[/button]