[dropcap style="font-size:100px; color:#992211;"]N[/dropcap]
o longer the signifier of the sailor or bohemian, these days around a fifth of British adults have at least one tattoo, with a third of young adults sporting some ink.
Its popularity shows no sign of waning and tattoo shows are now a regular staple of television programming. Discrimination against those with tattoos is getting harder to justify, with increasing numbers of employers realising that brightly coloured limbs are perfectly compatible with competency at work, although of course "job-stoppers" got their name for a reason.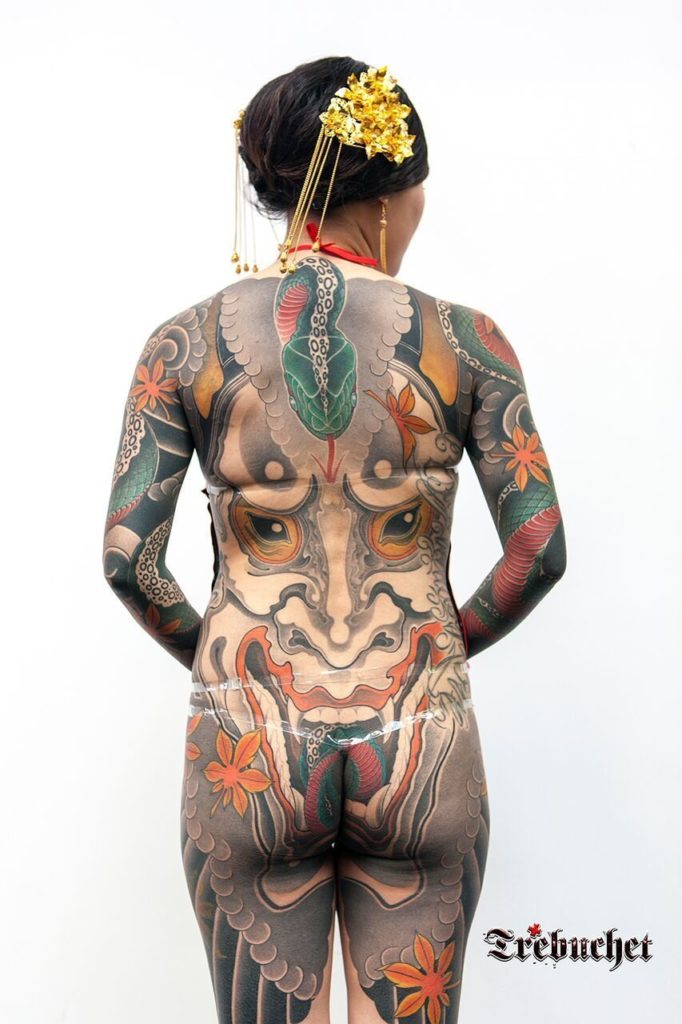 For those who have to keep it all concealed at the office, you'd be amazed how much colourful skin lurks underneath those sharp business suits.
The International London Tattoo Convention at Tobacco Dock, Wapping, East London is not, however, a weekend for covering up. In its twelfth year, the event featured over 400 tattoo artists but the emphasis was on quality rather than quantity with only world-class professionals allowed. Scratch merchants scrawling wobbly lines were most certainly not on the invite list.
For those wanting to acquire a new tattoo, it was a rare chance to get something special from an array of internationally renowned artists who would usually have a waiting list months long. There were of course plenty of the more widely seen styles with a plethora of skulls, dragons and demons, but more offbeat artists too. Particularly notable ones included the Cubist influenced pictures of Bugs from Los Angeles, the painstakingly complex black and grey designs of London's own Kelly Violet, the realism of Spanish tattooist Laura Juan and the perfect geometry of Norwich's Josh Fisher. All the major schools of tattoo design were represented – old school, new school, portraits, lettering and Japanese style tattoos; the latter showcased by a beautiful young woman wandering round semi-naked.
A few of the punters under the needle were flinching but for anyone with a particularly high pain threshold, or perhaps a tendency towards masochism, the old art of hand tapping was being carried out. In addition to the artist carrying out the technique, another person was required to hold the recipient in place. Many watched but a few were brave enough to suffer for their art.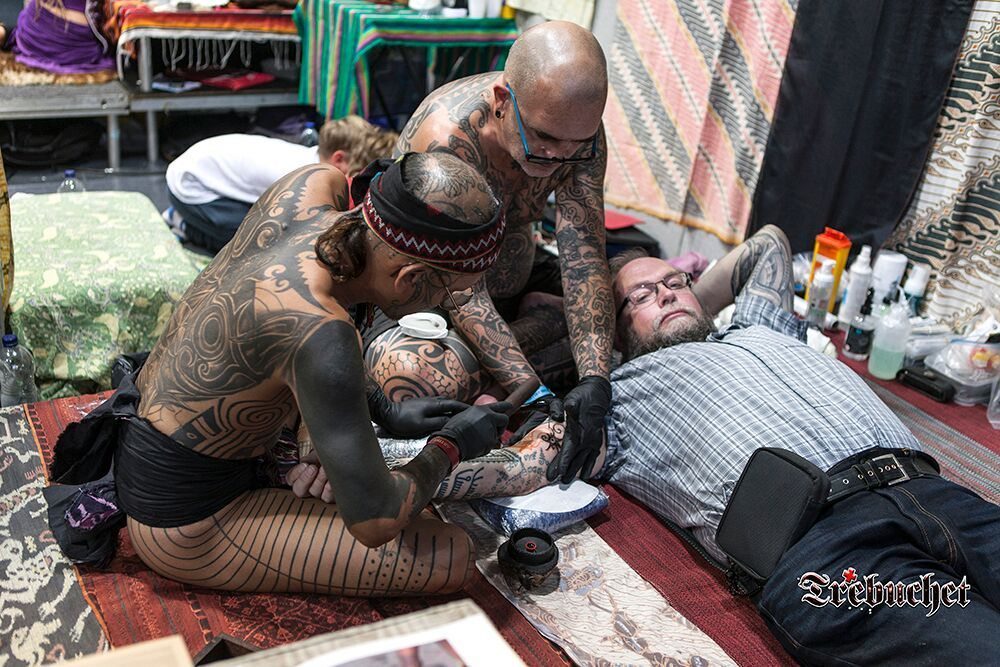 Now as highbrow as any other form of visual art, there were displays of artwork – from the cartoon like but intricate black and white eyeball-laden canvases of the un-inked Joe Fenton to the more realist paintings of tattooed ladies by Chris Guest. For the comic geeks and film buffs, there was a display of artwork from 2000AD and a selection of horror film prints, some with a hefty price tag.
Tattoos will always retain that link to circus culture though, and like the designs the performances have become more sophisticated over the decades. The Fuel Girls swallowed fire and pulled off athletic trapeze style feats on a high rope above the crowds without so much as a smudge to their lippy.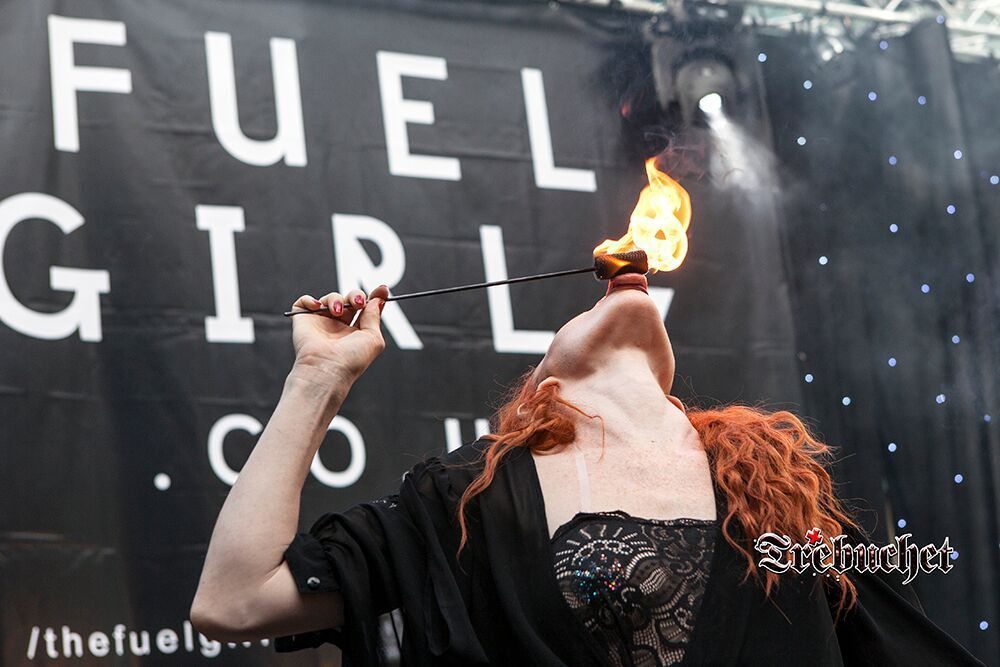 There were plenty of opportunities to relax with a beer and many basked by the quay in the harvest sunshine. Alcoholic drinks were paid for by tokens resembling poker chips, which could be purchased nearby, which reduced bar queues and made you question whether you really needed another one. Cocktails were served up in the Tiki Bar and there was plenty of bourbon and rum flowing in the Voodoo Bar, which also played host to the music of twangy guitars of Vince Ray Loser Machine, the antics of King Kurt and the gypsy burlesque punk of Urban Voodoo Machine. Meanwhile the main stage catered for the harder rock fans, with doom metal stalwarts, Orange Goblin headlining the Saturday night. There were no bands on the Sunday to allow for some much needed chilling out.
The convention strikes the right balance between catering for the professional and the more casual observer, with stalls purveying a rainbow of inks and no end of equipment as well as the familiar Goth, metal and rockabilly clobber. For that all-important aftercare, there was vegan balm and for those with a stronger stomach for deceased animals, there was a taxidermy stall with bats, bugs and a tiny puppy in a jar.
While many went away pleased with their individual and unique piece of body art, there was a competitive element but collaboration too, as the winning back piece combined the considerable skills of Matt Jordan, Yomico Moreno, Steve Butcher, Benjamin Laukis, Sam Barber and Jak Connolly. Appropriately, the design invoked the atmosphere of old London town on a crisp autumn night, complete with lampposts, a portrait and a rat with whiskers so realistic they seemed to jump out and brush against you.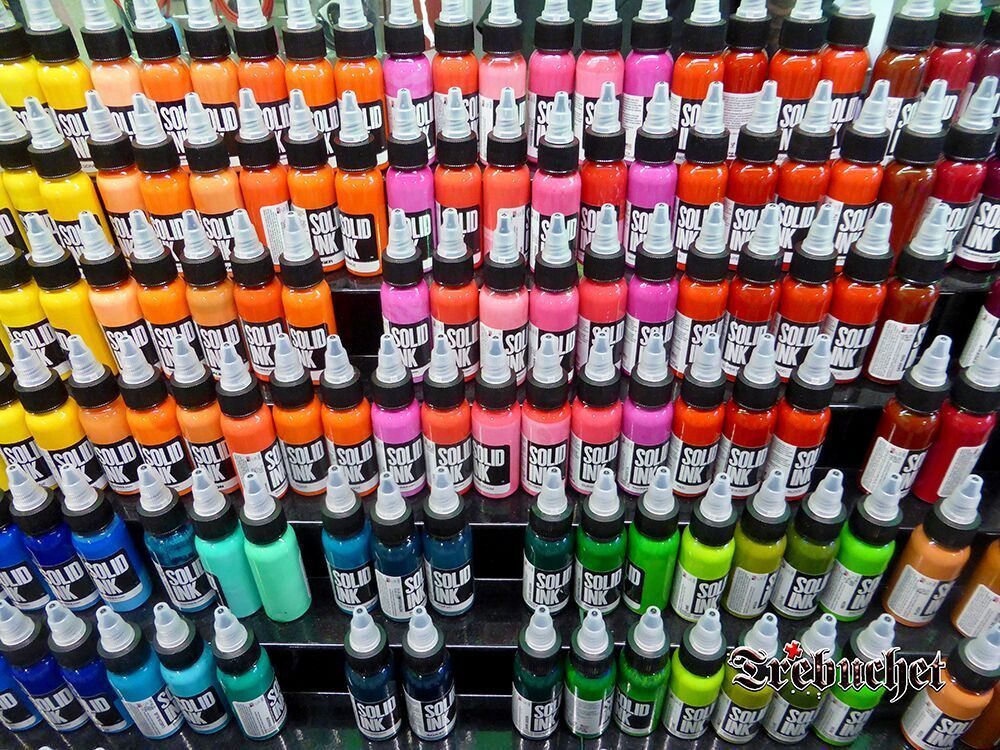 The International London Tattoo Convention will be returning to the same venue from 22nd to 24th September 2017, which gives you plenty of time to plan the next addition to your body art collection. To tide us over until then, the organisers are presenting a showcase of the best British and Irish tattoo art from 17th-19th February 2017 at Brick Lane's Old Truman Brewery.
Photos: Carl Byron Batson. Not to be reproduced without express prior permission.