[dropcap style="font-size:100px; color:#992211;"]T[/dropcap]here is no other band quite like Knifeworld.
Led by Cardiacs and Gong alumnus Kavus Torabi, the eight-piece band with their unique brand of horn-driven psychedelia with added bassoon has made a big impact on the festival circuit over the last couple of years.
Bottled Out of Eden is their third full-length album, following 2014's excellent The Unravelling. As we have come to expect by now, it's full of typical Knifeworld song titles like "I Must Set Fire To Your Portrait" and "Lowered Into Necromancy", combining dark and enigmatic lyrics with swirling kaleidoscopic instrumentation.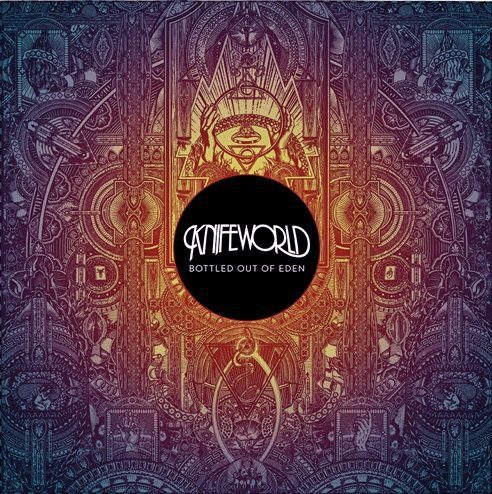 The album beings with chants and drones heralding "High/Aflame", a rocker that might be familiar to those who have seen the band live in the past year. From then on it's a blend of psychedelic rock workouts and slower and often sinister atmospheric numbers.
Highlights include the dark and brooding "Foul Temple" with it's haunting near-orchestral instrumental section, and "I Must Set Fire To Your Portrait" with its great interplay between Kavus Torabi's growling guitar riff and the horn parts swirling around it. "A Dream About A Dream" is as dreamy as the title suggests, again with some evocative work by the horn section. Even the half-minute bridge between two songs, "Vision of the Bent Path" makes an impression, an instrumental featuring just the horn section playing in multi-part harmony.
Earlier albums emphasised Kavus Torabi's psychedelic guitar and layered male/female vocal harmonies. While those elements are still present, this time they bring the horn section centre-stage and make them the focus of the record. The resulting arrangements recall Frank Zappa's early 70s big band albums "The Grand Wazoo" and "Waka Jawaka", with horn-driven instrumental passages taking the place of traditional solos. While it's a logical progression from what has come before, by strengthening the most distinctive elements of their sound, Knifeworld take things to the next level with this record.
And there is nobody else remotely like them.
From April 22nd.
[button link="http://www.knifeworld.co.uk/" newwindow="yes"] Knifeworld[/button]