[dropcap style="font-size:100px; color:#992211;"]H[/dropcap]eadlining Brixton Academy is a milestone for any act. Whether for the first time or as an annual return, it's a statement of relevance and following.
Billed as The Great Gathering, an emphasis on the fans carried through the show, and with afficionados from all eras the greatest hits went down with heavy assent. Killing Joke's filling of the Academy reflects the fans' love for this, an English musical institution that is only growing stronger.
Several pubs around the Academy were already refusing entry as we tried to cadge a few pre-gig drinks. By the time we arrived at the last stop there was already a crowd of thirsty punks ready to 'deal with' a confused doorman. To the rescue, someone guided us to another venue where blonde office girls and estate agents shrank back as tattooed and patched up hordes clamoured for a Friday healer.
Allegiances and accreditation ensued. These are music lovers who nail their colours. Talking to a New Model Army follower, a lot of fans had seen over 200 shows. To cite Azerrad, this band was their whole life; marriages, holidays and birthdays revolved around the band. Connected via forums and Facebook they'd come from many cities around the UK, even a few from proper Europe.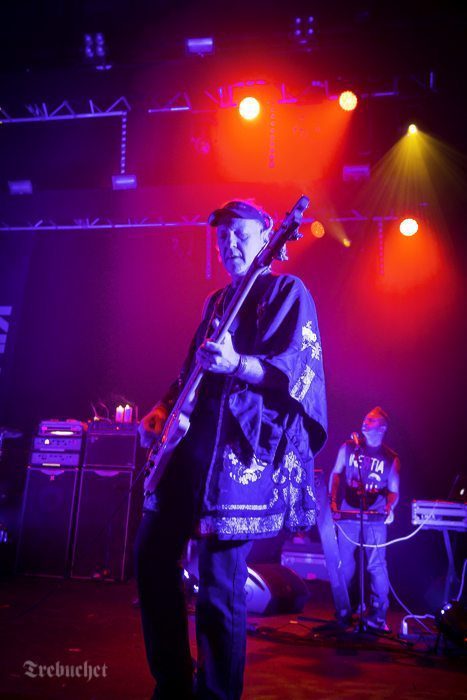 If you've appreciated a band from afar, talking to super-fans is intoxicating. What you've read, written about and listened to countless times has been worn into denim, creased into leather and inked into flesh. What the biographies gloss over the fans have lived: having your back tattoo licked by a couple of Dutch fans, arguments with band members and inter-fan feuds. A whole sweaty history is uncovered over several shots, quick beers and pointed comments on tour shirts before we're charging down the street to the shadow version of the Royal Albert Hall: Brixton Academy.
Support act Death Valley High played a good set of rock industrial but, due in part to less than stellar sound, didn't really translate that well onstage. The crowd clapped appreciatively but despite frontman Rekya Osburn's efforts, failed to ignite. That said, with a crowd as overwhelmingly partisan as this, not being bottled off could be chalked up as a win.
On the back of Pylon Killing Joke have been on regular touring schedule for around a year. They've practised the set to such an extent that it's buried in muscle memory. It kills. Tight, savage, groovy, there isn't much fat in a Killing Joke set. Despite inspiring industrial bands, they're not constrained by the genre. It's rock and roll. Off kilter, but rock and roll with as much debt to Chuck Berry as to the grinding repetition of noise artists. Despite the foreboding lyrics and darkness the music is fun, it elevates and parties, it's a ride and each track is a road-tested behemoth killing the crowd as it accelerates into overdrive.
Warming up with The Hum, the party proper started with classics Love Like Blood and Eighties, after which they simply flew through the set. Coleman took a few expected breaks to lay out some political knowledge before Geordie chimed in with his signature huge guitar sound. But the party never stops, and just as the crowd had settled into the familiar dark tribal groove of Killing Joke, fire dancers appeared. Twirling, turning and scantily-clad, the event suddenly became a lot more primal, like a Thatcher-era Beltane event. There was revolution in the air.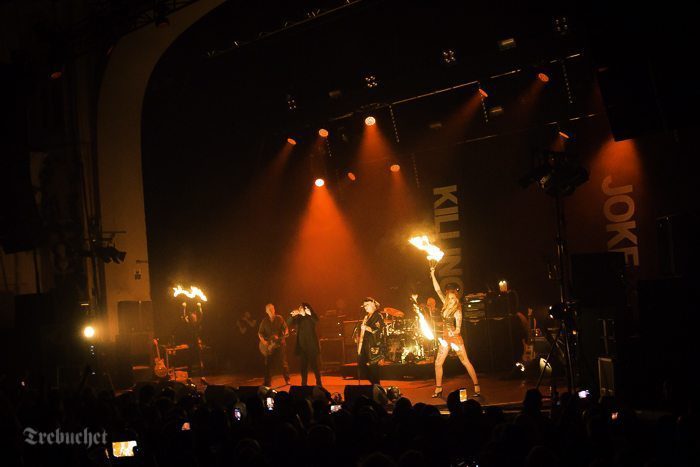 Geordie has never moved much on stage, swaying slightly to the groove as Coleman marches and Youth bounces around. Whether via YouTube interviews or in print, Killing Joke are four very distinct individuals. Watching them play onstage you feel the chemistry between the players, the place where their personalities, often at odds with each other, meet.
While many bands have an established uniform, Killing Joke look quite different to each other: Geordie in his fatiguesque attire, Jaz Coleman as a sort of occultish figure in black Nehru suit, Youth has always worn an eclectic mixture of cyber-hippy clothes (this time: Kimono, trademark plastic visor, beads and chains), Big Paul in utilitarian black jeans and singlet, and spiky haired Reza sporting a band shirt and combat trousers. They're a very cool band, and onstage they strut is a sort of intense disaffection.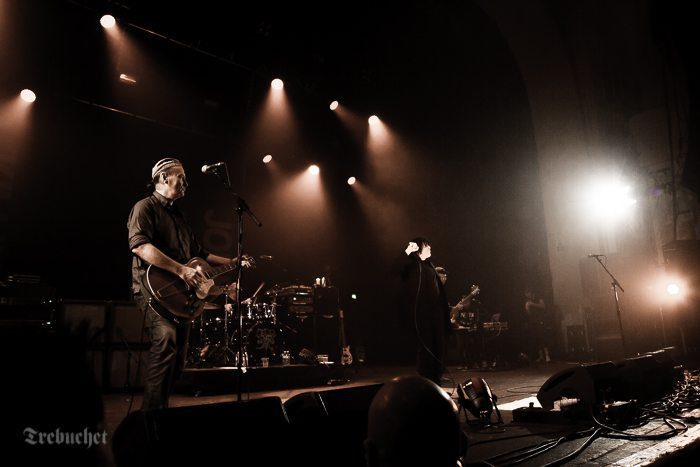 Zoned into another plane of consciousness, Jaz Coleman somehow translates that presence into a human frame, at once shamanic, mad and priest-like. An igniting foil which, like Killing Joke itself, is often imitated but never been successfully copied.
Compared to the Roundhouse show the guitar sound wasn't as crisp as it had been, but the drums and bass hit home. Keyboardist Reza was also higher in the mix than usual. Jaz Coleman's voice, while starting to show some signs of use, is a powerful force that carries pronouncements of conspiracy, doom, resistance, and celebration of underground contrariness.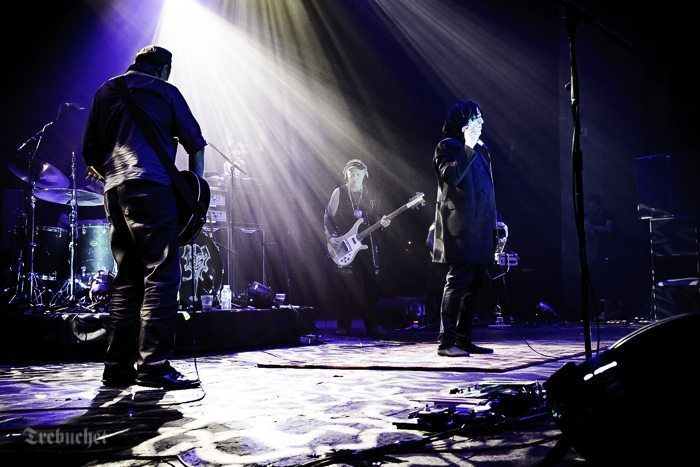 Killing Joke are on a winning run: a great album that has garnered solid sales, and several well attended tours. It seems like they can't lose and while they're on a high, so are the fans.
Amongst the loyal a Killing Joke event is a meeting of family and no-nonsense, wired, punkish and active people. It's friendly with real camaraderie. The music brings it all together, and the shots, pints and pogoing solidify the dark mass.
Setlist: Killing Joke. Brixton Academy 4th November 2016
The Hum
Love Like Blood
Eighties
Autonomous Zone
New Cold War
Exorcism
Requiem
Change
Turn to Red
European Super State
I Am the Virus
Complications
Dawn of the Hive
Unspeakable
The Wait
Pssyche
Encore:
The Death and Resurrection Show
Wardance
Pandemonium
Photos by Kailas Trebuchet. Not to be reproduced without express prior permission.