[dropcap style="font-size:100px;color:#992211;"]T[/dropcap]
ools for Life is the first ever UK solo exhibition of New York based Chilean artist Johanna Unzueta. Shaped in close dialogue with the artist, the exhibition presents four new commissions for Modern Art Oxford, in addition to a selection of her abstract drawings.
Unzueta's work explores labour's technological, historical and social impact on the human condition, and its relationship to nature. Combining elements from Chilean craft techniques, natural tinting processes and repetitive mechanised movement, Unzueta considers how materials and structures can be manipulated to explore the physicality of a daily practice or trade, in relation to the history of industrial production. The new works on show are a large-scale felt installation; a collection of garments; a film shot at a textiles factory in Chile; and a site-specific wall mural.
Related to Myself (2018–20) is a large-scale sculpture consisting of a chain of oversized interlocking cogs in natural felt, which are based on the measurements of Unzueta's own body. The work explores the human dimension of tool-making and industrial manufacturing processes. Her site-specific mural surrounds a presentation of simple handmade garments, reminiscent of uniforms, made from fabric sourced from a factory in Guatemala that up-cycles jeans and natural cotton. The garments have been designed to fit gallery staff members, who will wear them on the exhibition's opening night. The subsequent absence of bodies in the hanging uniforms as the exhibition continues reflects labour practices and the often nameless and unacknowledged individuals in precarious or exploitative employment.
Movement and motion are inherent in Unzueta's work, but never more so than in her large-scale brightly coloured freestanding abstract drawings. Referencing the 'golden ratio' found in nature — such as the wing structure of insects or the petal formation of flowers — these abstract diagrammatic systems map their own paths around the ovals and circles traced by the artist's hand.
Unzueta explores the experience of the human body as both a means and tool of production. Through her manipulation of materials, scale and manual processes, she draws the humanity out of the industrial, paying respect to those humble and overlooked objects that perform energy saving efficiencies. This exhibition offers viewers ways to consider the unseen human actions and efforts required to produce the objects and technologies they so unthinkingly rely on in their everyday lives.
Tools For Life runs at Modern Art Oxford from 8 February – 10 May 2020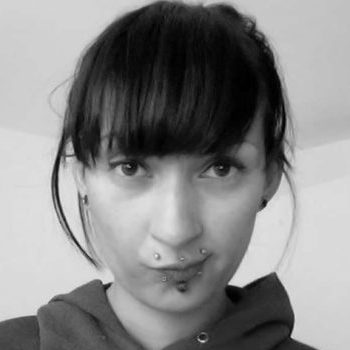 Naila Scargill is the publisher and editor of horror journal Exquisite Terror. Holding a broad editorial background, she has worked with an eclectic variety of content, ranging from film and the counterculture, to political news and finance.