In terms of recent guitar music, one noticeable trend is the growing number of duos that have been cropping up. This year has seen some terrific albums from the likes of Blood Red Shoes and Japandroids, not to mention the rise of Black Keys who are now considered an arena sized act.

Jeff The Brotherhood are amongst the new wave of noisy duos to create a substantial buzz. Although the Nashville band have now been in existence for more than a decade – including drummer Jamin's stint with the now defunct Be Your Own Pet – they have slowly moved up the ranks and this year have sealed a deal with Warner Bros, combining forces with Dan Auberach of Black Keys to produce their latest record Hypnotic Nights. Tonight's show at the Garage would be winding down their short tour of these shores, which included covering Reading/Leeds festivals.
Prior to their arrival, we were treated to tonight's support, Bo Ningen.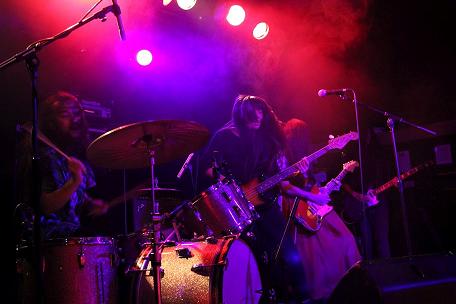 The London-based Japanese four-piece, who have previously toured with The Horrors, do not deal in the quiet end of the musical spectrum. In fact, their duty is to create an unsettling yet captivating experience that perhaps the audience here tonight weren't previously aware of.
With a new album set for release on 8 October, this band produced a sound that cannot be easily pigeon-holed; and their brand of heavy and dense psychedelic rock is certainly one of a kind. They will be embarking on an extensive tour next month to promote their new release and they are certainly worth making the effort to see, if they  stop by a destination close to you.
And so now it was  the turn of the Orrall brothers. Where obscurity was the main  hallmark of Bo Ningen, simplicity was the agenda for this two piece.
With the number of tunes the band has to offer, this show could easily have gone beyond the allotted  hour and although the venue wasn't packed, they still made for great listening. Highlights from their set included the ultra fuzzy  'Heavy Days', reminiscent of the type of track  Queens Of The Stone Age would have written back in their prime.
In addition, there were a couple of new tracks aired, the grunge-like 'Leave Me Out' and the stoner vibes of 'Sixpack'. Extended jamming was on the cards and the guys did their best to draw the audience in.
If you are a fan of  two guys simply having rock and roll fun, with no angst about life's more complex issues, they are definitely worthy of your time.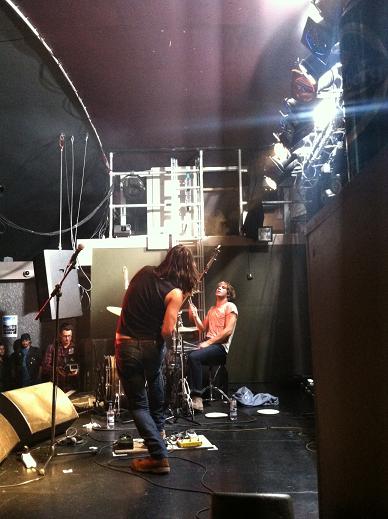 Jeff The Brotherhood + Bo Ningen at Relentless Garage 31/08/12