[dropcap style="font-size:100px; color:#992211;"]H[/dropcap]
eather Findlay albums are a bit like buses. You wait for ages, then two come along in quick succession.
Following on from Mantra Vega's The Illusions Reckoning (the excellent collaboration with Dave Kerzner from earlier in the year) comes I Am Snow, recorded with Findlay's current road band including former Cloud Atlas guitarist Martin Ledger, Touchstone drummer Henry Rogers and harpist Sarah Dean.
The album showcases the folkier side of her music, and combines new material with reworkings from her back catalogue, in a similar vein to 2012's Songs from the Old Kitchen. It's largely, though not entirely, acoustic, with Sarah Dean's harp and Angela Gordon's flute given prominence in the arrangements (although Martin Ledger does cut loose with some electric lead guitar in a couple of places).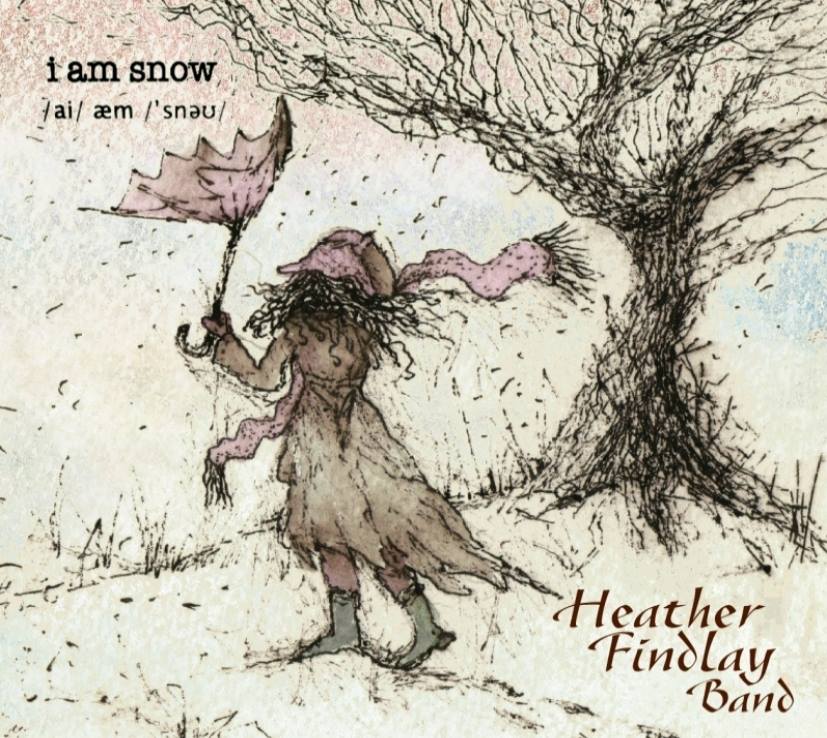 It's the new songs that will naturally attract the most interest. The title track, co-written with Martin Ledger and Henry Rogers, opens the album with the sound of Sarah Dean's harp before Findlay's Kate Bush-like vocal comes in. It's a beautiful slow-burning ballad with a beguiling melody, building from a delicate opening to a big wall of sound with ebowed guitar and flute. The other new composition, "Dark Eyes/The Dreamer's Wake" has something of the feel of Odin Dragonfly's "Magnolia Half-Moon" about it, especially with Angela Gordon's lengthy flute solo towards the end. Flute and harp again feature heavily in the beautiful cover of Sandy Denny's "Winter Winds".
The older songs come largely from the acoustic side of Heather's contributions to the Mostly Autumn songbook, with numbers like the dreamy "Eyes of the Forest" and the flute-heavy "Winter is King". Aside from a generous sprinkling of harp, the arrangements stay closer to the originals than the more radical reworkings by some of Heather's earlier bands either on record or live. Sometimes extra layers add richness to songs that were quite minimalist in the first place; for example, harp and flute enhance the delicate piano ballad "Above the Blue".
One interesting choice from outside the Mostly Autumn canon is the first part of "Day Thirteen: Sign" from Ayreon's prog-opera The Human Equation. The album closes with a Mostly Autumn standard and one of Heather's signature songs, "Shrinking Violet", which despite some soaring lead guitar from Martin Ledger, as a full electric number feels slightly out of place.
Taken as a whole, the atmospheric folky vibe is clearly a place where Heather is comfortable, the songs old and new play to her strengths as a singer, and despite the wintry themes the music emphasises the natural warmth of her voice. Even though much of the album is reworkings of previously recorded material, the two new songs are golden, and for many fans they will be worth the price on their own.