[dropcap style="font-size:100px; color:#992211;"]R[/dropcap]
umours that the Green Scythe Fair has lost its edge have been greatly exaggerated. You'll be hard pressed to find a more bucolic and delightful English Country Fair.
Held near Muchelney on the Somerset levels, this is a day for lovers of the billhook and mattock, the hand-drill and the bow-saw, the hurdle and the pitch-fork. There are so many wood-turners, beekeepers, thatchers, bodgers and small-holders, it's as if the pages of John Seymour's Complete Book of Self-Sufficiency have exploded mysteriously into life.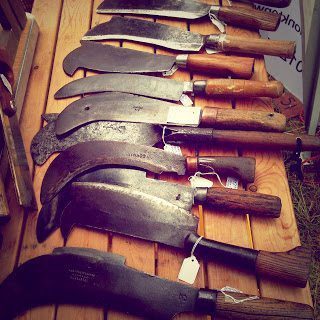 This is a celebration of the rule of thumb, the fat of the land, the acre over the hectare; of a life lived deosil, by the turning of the sun. Only the drunken auctioning-off of a wife could make it more Hardy-esque.
Ruddy farmers raise pints of cloudy scrumpy to banging bluegrass then sleep off their hangovers under a hay-rick. Children run riot in stooks that have been freshly mown from the meadow (scythed, of course).
There's country-dancing, and tipsy fiddlers leading improvised sessions.
And this being England, there are torrential showers that send everyone sprinting for the nearest shelter. The opportunistic take the chance to grab a sneaky organic wild-boar burger.
This is a country fair with a twist though, for it lies just outside the Glastonbury Zodiac and so draws in the hippies and the crusties and the travellers who live within its green folds. They come in their converted transit vans, and even a barrel-topped vardo, to smoke surreptitious spliffs and get bongled on cider. So, a chance to catch up with old friends then.
But whoever comes and whatever their reason for doing so, the scythe remains centre-stage.
The festival rings around a lush meadow where scything competitions are held throughout the day. Scythers take on electric strimmers, compete with each other against the clock, or for precision of cut, or to see who can toss the most hay over a high wall. No joke, this isn't some elaborate variant on welly-boot throwing or blat-the-rat. Ripped men with calloused hands, tanned backs and Tolstoy's beard travel from all over Europe to compete. Women too, though not so many.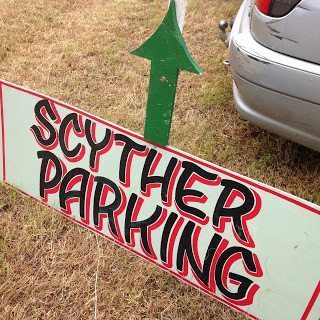 They all come to talk blades and whetstones, to compare the traditional English scythe with its leaner continental cousin, to plot long-overdue land reform and to share notes on how to get the self-build past the planners.
In doing so, they are returning the word 'radical' to its original meaning: 'of the roots'. For all its olde worlde charm, this is a radical festival. With every measured sweep of the blade this new peasantry is cutting at the bloated excesses of modern agribusiness. They seek to return us to the soil.
Remember the land, they say. Remember where your food comes from. Remember the hands that toiled for you.
Theirs is a pitchfork revolution and one day, I hope, it will prove unstoppable.

A writer and a folk musician, Andy is the author of 'Shroom: A Cultural History of the Magic Mushroom' and has published a range of articles and academic papers on subjects as diverse as psychedelics, paganism, bardism, environmental protest, fairies, shamanism and evolution. A modern day troubadour, he plays mandolin, writes songs, and fronts darkly crafted folk band, Telling the Bees. A leading exponent of the English Bagpipes, he plays for brythonic dancing in a trio called Wod.