[dropcap style="font-size:100px; color:#992211;"]F[/dropcap]
lorence Joelle was a new name on our radar, despite having been on the scene for a few years now.
Hence, we really didn't know what to expect as we went back to our roots at the historic 100 Club, where Ms. Joelle was to open proceedings for Big Sandy and his Fly-Rite Boys.
Her website sets the scene somewhat:
'Florence Joelle was bred on jazz at home, and on the music of the Paris streets: the Gypsy art of Django Reinhardt, bal musette, and North African rai. She started collecting rock'n'roll, doo-wop, Latin jazz and early blues as a girl. Her music draws from all these influences, carving out a unique sound that, although deeply rooted in the past, vibrates in the present….'
Looking like a cliché from a 1940s Parisian bar, Florence Joelle pulled the microphone close to her ever-smiling mouth and started in with 'Devil's Overdraft', proving to all she sounded every bit as good as she looked.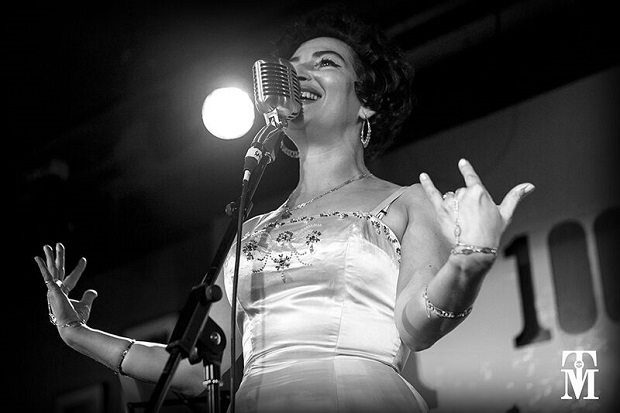 Jazzy/Blues with a hint of Gypsy flair, the ingredients listed in her resume were emphatically on the menu from Florence and her exceptional band (consisting of Guitar, Upright Bass, Bongos and Snare), and with a sexy husky edge, Ms Joelle served up the whole steamy sultry set with her smooth as molasses vocals.
Close your eyes and imagine the sting of Pasquinet Cognac on your lips, a lipstick-stained Gitane still burning in the ashtray and the sweet smell of Chanel on the still warm dent in the pillow beside you.
All this and a nod to the Legendary Little Jimmy Scott, it was truly emotional.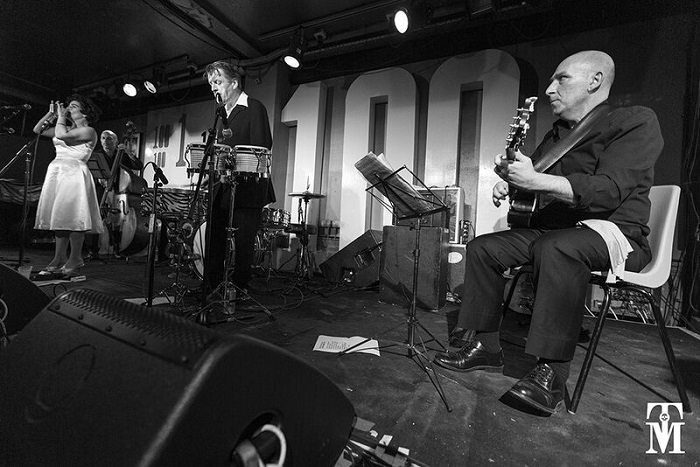 Florence Joelle played the 100 Club on September 25 2015. Catch her at the following venues over the next few weeks:
Thursday 8 October 2015: (Duo with Thierry Courault): The Brown Derby, 336 Kennington Park Rd, London
Saturday 10 October 2015: (Duo with Thierry Courault) The Reading Room, Upstairs at The Library, Laycock Street, Islington, London
Photos by Carl Byron Batson. Not to be reproduced without express prior permission.

Photographer, published poet, former party animal, body builder, grave robber
to the stars and renowned chainsaw juggler, Carl can often be spotted on his
Harley Davidson pretending to be in Terminator 2. He is also frequently seen in
the press pits of old London town, camera in hand, avoiding being hit by bottles
of wee and crippling his opposition with secret Kung Fu moves.