[dropcap style="font-size:100px; color:#992211;"]B[/dropcap]ased upon El Plebiscito, an unproduced play by novelist Antonio Skármeta, No sets itself around the 1988 Chilean national plebiscite, a referendum called to determine whether Pinochet would take another term, or a presidential election take place instead.
A fictionalised account of the titular campaign against the dictator, it's a powerful experience, much more so for a largely unsentimental approach that does not forget its raison d'être: to tell the story of the campaign. Complementing this is the decision to shoot with a 1983 U-matic camera, which merges seamlessly with archive footage and the real TV spots of the campaign.
An inspired move, in fact, that transports the viewer to the time, emphasising its real-world setting and promoting empathy in the story.
Gael García Bernal stars as René Saavedra, the skateboarding advertising professional who leads the campaign. A sincere opener that sees the discussion of an advert for a soft drink by the name of Free — "important for youth in a political time" — introduces him as quietly confident yet rebellious, a young man who is not afraid to push forth his ideas.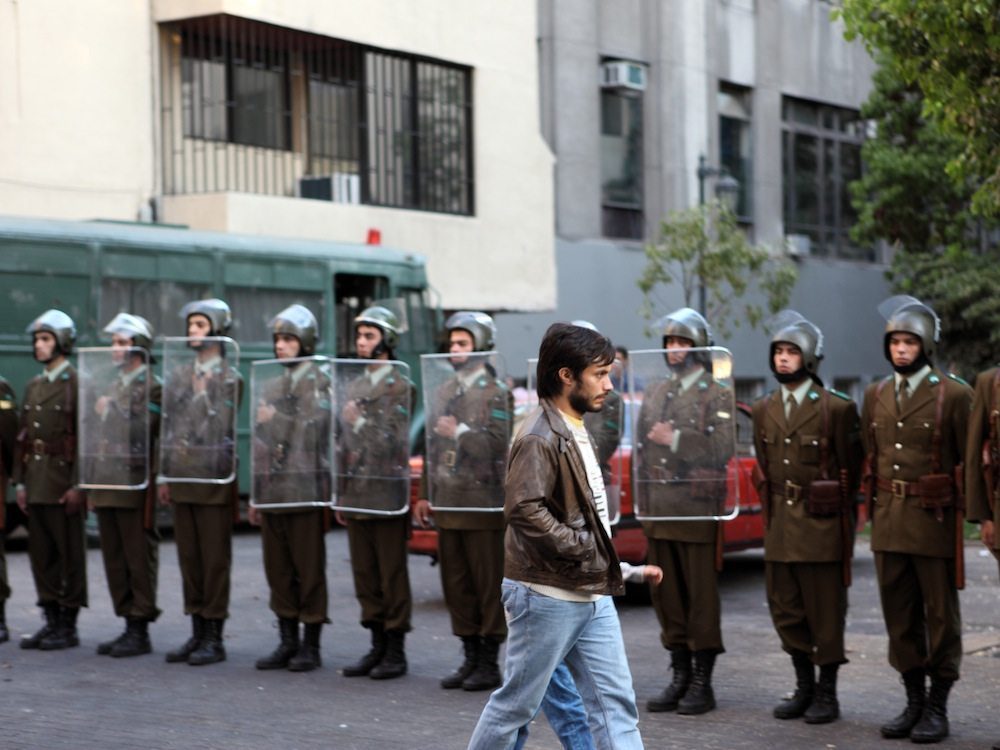 Approached by the coalition of parties in opposition to Pinochet to spearhead their campaign, he is sceptical—it's all surely a fix, anyhow—but agrees to the project, which, permitted just 15 minutes a day of airtime to deliver its message, feels insurmountable.
What is particularly interesting about No is the clash between marketing and politics. The opposers assume the obvious approach of hammering home the brutality of the regime, so are unconvinced when René suggests a softly-softly tack that will promote a simple message: vote no to more Pinochet, and you will be happy.
For political activists, this makes no sense; one must always be aware of what one is fighting against. In fact the film as a whole makes minimal reference to the brutality, which would have been equally obvious. Instead, No stays true to its theatrical roots, delivering a close proximity to the story being told, with much focus on discussion as opposed to formulaic drama.
[quote]No stays true to its theatrical roots[/quote]
For this, the dialogue and interaction feel natural, and the hand-held camera creates an impression of looking in. A sparse soundtrack further underlines the sense of realness here; really, it's no surprise that the film was nominated for the Foreign Language Oscar, and won the Art Cinema Award at Cannes.
The subtext here is the personal story of a man battling those around him, who have little faith in his ability and commitment. René is constantly doubted by his clients, while his ex-partner, an active Pinochet opponent, belittles his involvement in the campaign.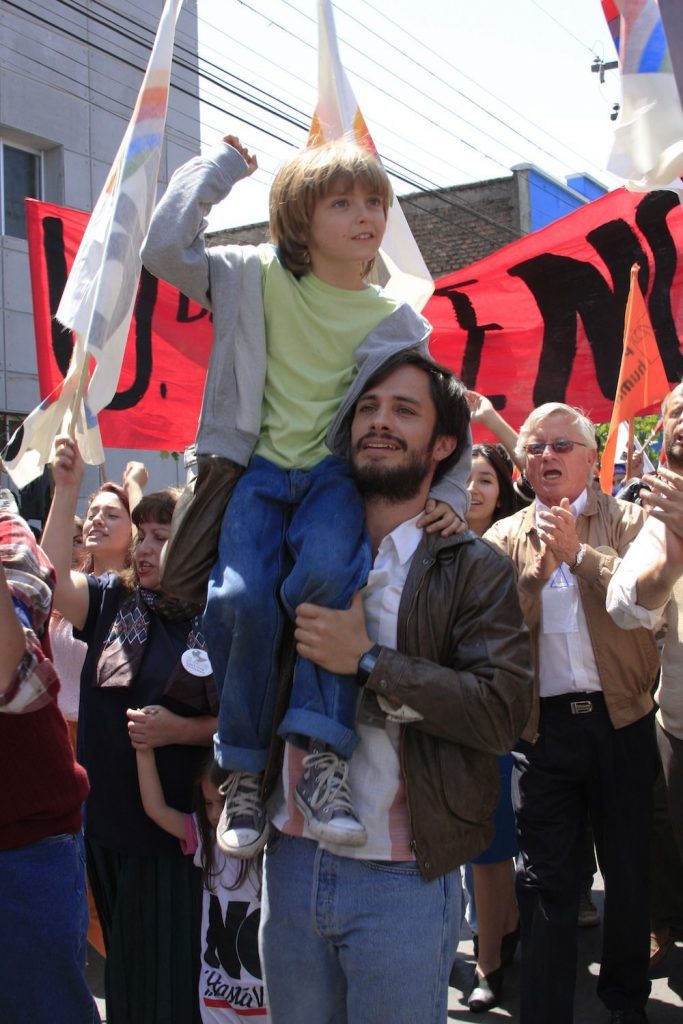 Meanwhile, he is a cog in the machine, just as everybody else is. His initial reaction when approached is slightly apathetic, that apathy illustrated while his son is exposed to the propaganda he will be working against, as the pair are seen watching TV together. It's  a subtle reference to the cyclical nature of a public's yielding to dictatorship.
The sense of helplessness here provides a good balance against the wider political story, further pulling the viewer in. A sprinkling of humour humanises the unspecified people — Chile's public — at the centre of the story, making for a sense of urgency; we are rooting for René and his team. When the inevitable occurs at a peaceful rally, the emotional involvement that has so subtly been created complements said helplessness superbly.  Despite us being aware of the outcome, the final scenes are tense as votes are counted.
Overall, No is a deeply involving experience, and in no small part due to Bernal's performance. The man has a gift for portraying an almost unassuming naturalness, a pleasure to watch, and extremely important here in a film portraying the life of ordinary people suppressed and fighting a dictatorship.
Highly recommended.
In Cinemas February 8th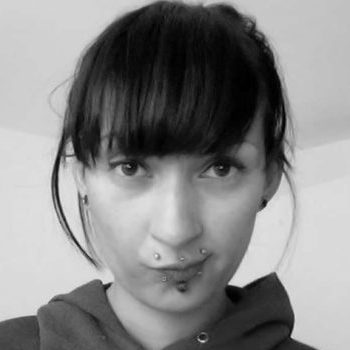 Naila Scargill is the publisher and editor of horror journal Exquisite Terror. Holding a broad editorial background, she has worked with an eclectic variety of content, ranging from film and the counterculture, to political news and finance.