[dropcap style="font-size:100px; color:#992211;"]I[/dropcap]t's been a long time since Fish's last studio album.
The gap since 2007's 13th Star approaches Kate Bush or Peter Gabriel proportions, and there even were times when it seemed that the possibility of future albums hung in the balance, with vocal problems that at one point appeared to come close to terminating his career. But after spending eighteen months on the road playing as as part of an acoustic trio, Fish reformed an electric band for some gigs with Glenn Hughes last year, and made it clear he was still a force to be reckoned with.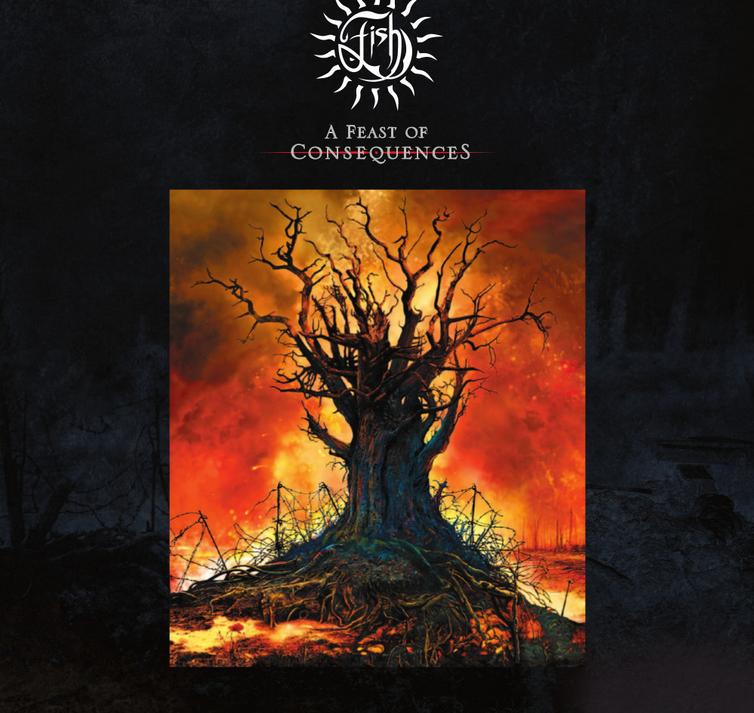 The new album has been a long time in the making; he débuted early versions of a couple of songs at his fan convention last year before playing much of the album live on a two-week British tour this May. The band is the same as for that tour; Steve Vantsis on bass, Foss Patterson on keys, Robin Boult on guitar, and Gavin Griffiths on drums – all Fish collaborators of long standing – with guest appearances from Liz Antwi on backing vocals, violin by Aidan O'Rourke and even some string and brass sections.
With Vantsis, Patterson and Boult all contributing to the writing the album is more varied than some other recent albums, and the way much of the material had been played live before they went into the studio to record it gives it a strong organic feel.
Sampled pipes herald the ten-minute opener "Perfumed River". It starts with a brooding atmospheric opening combining electronica and spidery acoustic guitar to accompany Fish's half-sung, half-spoken vocal, before exploding into the full-blown rock in the second half of the song. It's an epic combining many of the best aspects of Fish's recent music in one song, and makes a perfect opening to the album.
The next two numbers are more straightforward. "All Loved Up" is a hard rocker reminiscent of The Rolling Stones, with lyrics taking aim at the vacuity of the X-Factor celebrity culture. In contrast "Blind to the Beautiful" is a stripped-down acoustic number in the style of the unplugged trio tour from a couple of years, enhanced by some superb violin from Aidan O'Rourke.
It's an old joke that if you play a Country and Western record backwards, you get your woman, your dog and your truck back. Not that he's in any way a Country artist, but it wouldn't be a Fish album without at least one bitter song about a break-up, and the angrily rocking title track is one of several such numbers on the album.
[quote]It all amounts to
an album that's
well worth the
six year wait[/quote]
But the heart of the album is the five-part "High Wood Suite", the first extended concept piece since "Plague of Ghosts" back in the 90s. It's inspired by the World War One battle in which both his grandfathers fought. It starts with a picture of the battlefield in the present-day, with the sounds of birds and agricultural machinery, before taking us back to terrible human stories of the men who fought and died almost a century ago.
The twists and turns of the music, through Celtic atmospherics and angry jagged riffs, reflect the initial enthusiasm of the recruits dashed against the horrors of war and the ultimate futility of it all. Both musically and lyrically it's one of the most powerfully moving things Fish has ever done.
After the intensity of the "High Wood", the final two songs are something of a coda, returning to the more personal heart-on-sleeve territory of the title track. The reflective ballad "The Other Half of Me" wouldn't have sounded out of place on 13th Star, and the closing "The Great Unravelling" makes a fitting end, with some fantastic call-and-response vocals from Liz Antwi.
As with 13th Star, the album is produced by Calum Malcolm, and his production captures the sort of intensity and energy levels you associate with the best live albums. Robin Boult in particular plays some great raw-sounding guitar; not that much in the way of showboating solos but some powerful riffs and rhythm parts, especially on heavier parts of the 'High Wood' suite. Guests Liz Antwi and Andy O'Rourke both leave strong marks with their contributions.
Despite his much-publicised vocal problems of the recent past, Fish is on fine form vocally throughout, as ought to have been obvious to anyone who's seen him live recently. It's true that he doesn't have the power or the upper register from his early days, but with songs arranged to fit his current range he's still a very evocative singer. Lyrically, he's long moved on from the overcooked style of early Marillion albums, with a more direct but poetic style that deserves recognition in the wider rock world as one of British music's finest lyricists.
It all amounts to an album that's well worth the six year wait. Fish's extensive post-Marillion career has seen some ups and downs, with strong albums interspersed with patchier and sometimes flawed works. Feast of Consequences is one of his best works for many years. In some ways it comes over as a combination of the strongest elements of his last few albums without any of those album's weaknesses.
The album is not distributed through normal retail channels, but is only available directly, either through Fish's website, or at his gigs.