[dropcap style="font-size:100px;color:#992211;"]C[/dropcap]
ecilia Brunson Projects is pleased to announce I Am Awake, the first London exhibition of
celebrated Paraguayan artist, Feliciano Centurión.
Centurión, who died aged 34 in 1996 from the complications of AIDS, was a central figure of the Arte Light movement of the late 80s, linked to the Ricardo Rojas Cultural Center in Buenos Aires. These artists were known for their flamboyant, irreverent works that embodied progressive attitudes to sexuality and lifestyle, emerging in tandem with the fall of right-wing dictatorships across Latin America.
The artist's work signals a moment in Latin American consciousness, where a new generation of late '80s artists — influenced by postmodernism — eschewed big-idea utopianism in favour of a more layered, subjective and wry perspective. These artists embraced the peripheral and traditional as well as the popular and mass-produced. From a small-town childhood absorbing the cultural melange of Guaraní Indians and Spanish Jesuits and raised by a mother and grandmother who taught him the traditionally female activity of lacemaking, embroidery and crochet, Centurión became a shining light in this new cross-cultural consciousness.
I Am Awake is comprised of a series of works from the artist's estate, some of which are being shown publicly for the first time since his death. Taken mostly from the period of his life following his diagnosis with HIV in 1992, the exhibition consists of characteristic embroidered frazadas (blankets), along with plastic dinosaurs bedecked with crochet outfits, painted paper plates and the documentary film directed by Mon Ross, Feliciano Centurión: Abrazo Íntimo al Natural.
In many of the works of this period, Centurión intervenes the most intimate household textiles — blankets, pillowcases and pillows — typically mass-produced and cheap. On these he sews beautifully intricate pieces of embroidery, Paraguayan Ñandutí lace, patches and backgrounds of bright fabrics. These form habitats in which the artist brings to life a pantheon of semi-mythical symbols or beings, which derive from his own night-time dreams.
I Am Awake runs at Cecilia Brunson Projects from 19 September – 13 December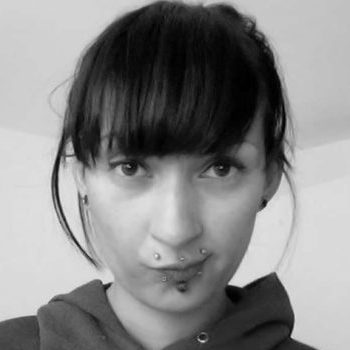 Naila Scargill is the publisher and editor of horror journal Exquisite Terror. Holding a broad editorial background, she has worked with an eclectic variety of content, ranging from film and the counterculture, to political news and finance.