'more like a mini-festival than a regular gig'. Tim Hall reviews Esoteric Antenna's showcase night at Camden's Underworld.

---
To mark the launch of their new "frontline" label Esoteric Antenna, progressive rock label Esoteric Recordings staged a showcase event on 14th April at The Underworld in Camden. It featured four of their recent signings. The nature of the show meant none of the bands could play anything near a full-length headline set, but they all had a long enough slot to make an impression.
Given an early curfew because of a club night after the show, and four bands on the bill, the evening began at the ridiculously early time of half-past-five. There were nevertheless a very good crowd by the time opening act The Reasoning hit the stage. This must have been a very difficult gig for the Cardiff band. A month ago, guitarist Owain Roberts disappeared near his home in west Wales, leaving band, friends and family without any clue what had happened to him.
the evening began at the ridiculously early time of half-past-five
The band bravely decided to go ahead with the gig, and Dave Foster of Mr So-and-So did a sterling job standing in on guitar given the limited amount of rehearsal time. When frontwoman Rachel Cohen read out a letter from Owain's parents mid-set she was on the edge of breaking down in tears. Set-wise it was something of a greatest hits show, beginning with the title track of their second album "Dark Angel", ranging from the Dream Theateresque prog-metal of "14" to a couple of melodic hard rock songs from début album Awakening. As well as "One By One" from their recently-released EP they played one as-yet-unrecorded number, "No Friend Of Mine": a song about the downside of Facebook which might strike a chord with a few people.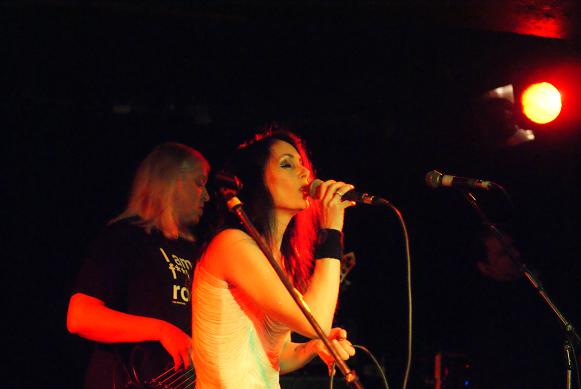 The Reasoning
The whole thing was an intense and emotionally-charged experience; as one of the band told me afterwards, they did it for Owain.
Sanguine Hum were a quite different kind of band. A four-piece with elements of Canterbury-scene jazz-prog, some have also drawn comparisons with Porcupine Tree. They had their moments, and were clearly very accomplished musicians. But they suffered from weak vocals with rather too much sub-Thom Yorke falsetto, and from a lack of strongly memorable material. Whatever they may be on record, they left the impression their live show needs more work; not nearly enough interaction with the audience, and the whole thing came over as somewhat bloodless.
sub-Thom Yorke falsetto
Panic Room came, saw, and conquered. If the number of t-shirts in the hall were a measure of support, they appeared to have drawn the largest contingent of fans of any band on the bill. They didn't let those fans down, with a performance that pulled out all the stops. Taking aim at the future, nearly half the songs came taken from the forthcoming album Skin, including the dynamic opening rocker "Song For Tomorrow" (which ought to be familiar to anyone who saw the band last year) and the powerful "Hiding The World", played live for the first time.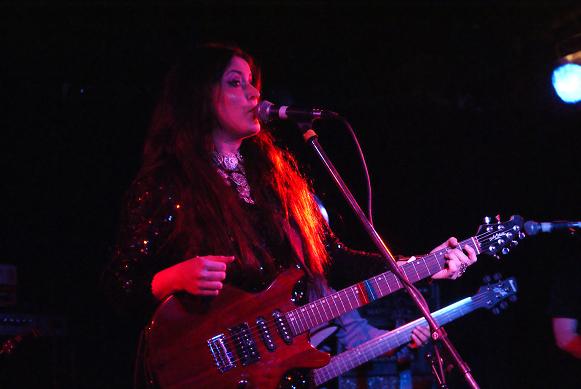 Panic Room
Indeed, with their splendid swamp-blues cover of ELP's "Bitches Crystal" and the full-band reworking of one of frontwoman Anne-Marie Helder's older solo songs "Exodus" they, ended up playing just a couple of songs taken from existing Panic Room albums. With a combination of very strong musicianship, strong melodies, tight and focussed songwriting, and a multiple award-winning vocalist, they seem poised for the sort of breakthrough they've deserved for a while.
Headliners Tin Spirits are a four piece including former XTC guitarist Dave Gregory. Seeing a band with no keys, and two guitarists playing a Telecaster and a Rickenbacker, you might expect them to start playing jangly indie-pop. But they're nothing of the sort. They supported Marillion at the end of last year playing a mix of originals and covers. This time they focussed more on their own material, much of it jazz-tinged with a hint of Steely Dan, and played with a lot of energy and passion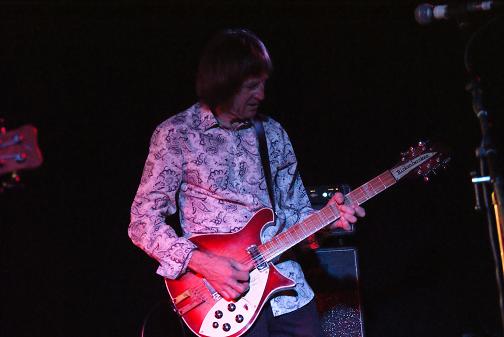 Tin Spirits.
This is a band who are not only outstandingly good musicians but clearly enjoy being on stage. They ended with an amazing cover of Yes's "Roundabout" with Gregory playing all Rick Wakeman's keyboard parts on guitar, followed by XTC's "Towers of London", as unlikely a juxtaposition of songs as you're ever likely to get.
more like a mini-festival than a regular gig
With three great bands out of four, this felt more like a mini-festival than a regular gig. It certainly kicked off the Esoteric Antenna label with a bang, showcasing some bands who've been working hard in the rock club circuit for years building up a following, and now seem destined for bigger and better things.
All Images: Tim Hall
Sidebar Image shows The Reasoning