After her interpretation of Amon Tobin's 'Surge', Emika's Pretend' comes as something of an uneasy shock.
The track is taken from her forthcoming album, entitled simply 'Emika' (Ninja Tune copywriters take note – 'self-titled' implies that the album chose its own title, the word you are looking for is 'eponymous'). The vocal is somewhat jarring to a listener expecting more of Emika's fragile, enchanting tones. Instead, 'Pretend' is sung in a defeated, world-weary voice, deliberately avoiding an emotional engagement with the listener. Set against an industrially bleak backing, the effect is dehumanising, despite the simplicity and accessibility of the lyrics:
Just for tonight, we could pretend
That we were friends
Contrast that with the unintelligible (Czech?) lyrics on her version of 'Surge', which despite not being readily comprehensible, drew the listener towards the source of such ethereal beauty. In 'Pretend', Emika mirrors the cold nihilism of the lyrics with her voice. The effect is to posit the voice as no more than another sonic element in a mechanical, remote musical work – deliberately frigid and emotionally distant.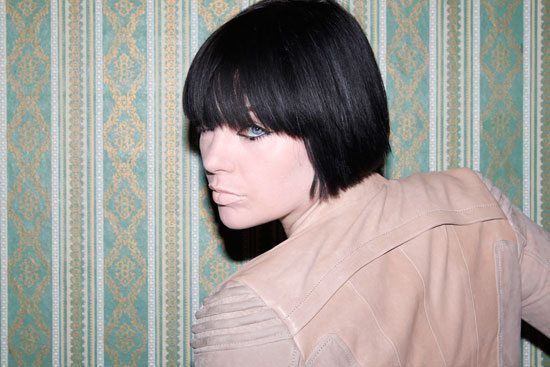 On the Brandt Bauer Frick rework of the track, she harmonises the words 'tonight' and 'friends'. That backing vocal brings much more warmth to the song, on a version which pares back much of the unsettling atmospherics of the original and replaces them with more obviously human-controlled percussion and keyboard elements. The second remix by Kyle Hall brings little to the track though – breaking the vocal into a couple of sampled snippets to garnish what is otherwise a lengthy deep-house/techno dredge through the dance music toolbox. A couple of glitches in the beats mid-way and a sparse keyboard breakdown almost lift the monotony.
Introducing Emika via a remix of Amon Tobin – surely their flagship act – then developing and defining her sound over a number of single releases, only then releasing an album.
The second track, 'Professional Loving', sees the welcome return of that haunting Emika voice which was so arresting on the Amon Tobin record. Here, it is marred only by a questionable mockney glottal stop in her pronunciation of 'sophisticated'. Hopefully this is done in parody of the patois affected by newly-arrived office girls in the capital, desperate to conceal their regional origins and appear 'sophisticated'. Hopefully. Perhaps Emika should be granted the benefit of the doubt on this occasion; there can be no perceivable benefit to so singular a vocalist styling her delivery on such tawdry pickings as Lily Allen or Kate Nash.
That one jarring syllable aside, the song is very fine indeed. Emika's breathy, broken glass voice is still remote, but with a tone which aggregates hurt and hope; jaded worldliness, and vulnerability into the few lyrics of the song. The accompaniment is equally complex and contradictory. There are the warping, whomping beats and basslines of post-dubstep, as well as trademark NinjaTune glassy atmospherics, both giving way to a contemplative piano melody to play the track out. Emotionally and artistically gruelling whilst ultimately deeply satisfying – the track is too edgy for the mainstream, but is surely a harbinger of what the mainstream will become.
What also come across in the release is a certain self-conscious awkwardness in delivery. As if Emika is unsure of exactly what to do with the tools she has been given. The vocals are purely her own, but the music has a style to it which is very obviously NinjaTune. Whether that has been imposed upon her, or she has chosen it, is irrelevant. What matters is whether or not she develops a musical style which is recognisably Emika in the releases yet to come.
An eponymous album title can be an indicator of unformed artistic identity. Why, given the chance to convey two pieces of information (act name and album title), throw away the second? Why also throw away one of the most open-ended interview questions: 'why did you call it that'? More than anything though, what incredibly valuable aspects of your life and identity are entirely encapsulated in this collection of songs, so much so that you have given them your own name – and why do you expect anyone else to value them so? In such a hard-fought commercial arena, musicians need to constantly address such questions. Nevertheless, it is early days for Emika.
NinjaTune are almost alone in continuing to find, develop, record and release music which adheres so strictly to artistic values – an approach which appears to be appreciated by their many fans.
Both songs, taken as a release, display a confidence and quality-control which is rare in non-mainstream releases. Too often, what is billed as the new artistic and commercial freedom of Music 2.0 is little more than an excuse for sub-standard work which has never been held up to the critical judgement of a manager, a&r man or producer. Even within the infrastructure of established indie labels (whose stated raison d'etre is usually to nurture and develop outstanding musical talent even when it is unlikely to result in massive commercial success) quality of output and adherence to mission statements are often sacrificed for the sake of a hit record (Adele, anyone?). In a music industry climate where every ethic is being sacrificed on the altar of commercial survival, NinjaTune are almost alone in continuing to find, develop, record and release music which adheres so strictly to artistic values – an approach which appears to be appreciated by their many fans.
It will almost certainly result in something spectacular in Emika's case, sooner or later. With work as intriguing and bold as 'Pretend/Professional Loving'; and as iconoclastic as her version of 'Surge', the mature artist will surely be exceptional.
Emika – Pretend/Professional Loving released on NinjaTune 5th September

Sean Keenan used to write. Now he edits, and gets very annoyed about the word 'ethereal'. Likely to bite anyone using the form 'I'm loving….'. Don't start him on the misuse of three-dot ellipses.
Divides his time between mid-Spain and South-West France, like one of those bucktoothed, fur-clad minor-aristocracy ogresses you see in Hello magazine, only without the naff chandeliers.
Twitter: @seaninspain