Out today, making their world DVD premieres, are these two Hammer classics, The Scarlet Blade (1964) and The Brigand of Kandahar (1965).

Both tales of conflict written and directed by John Gilling, both Oliver Reed vehicles, yet two rather different films.
If made today, these stories—the former set during the English Civil War, the latter 19th-century British India—would be overlong, painstakingly-shot character dramas, with plenty of bloodshed. These however are PG-rated swashbuckling adventures, each under 80 minutes, featuring the jaunty, trumpet-driven soundtracks that tell us this is all a Jolly Good Show, as opposed to accurate historical depiction. Simplistic scripts and mostly terrible acting complete this picture, contributing an odd kind of charm.
Simplistic scripts and mostly terrible acting complete this picture
Many DVD releases of older titles are rushed jobs, some even having the nerve to simply lay the VHS print onto disc, so the quality of the remastering here is a pleasure to see; I'm sure I'm not the only person who would prefer to see a 'story of a band of freemen who defied a tyrant', as The Scarlet Blade proclaims itself, in as clean a picture as possible. But, if you're looking for in-depth politics, you won't find it here.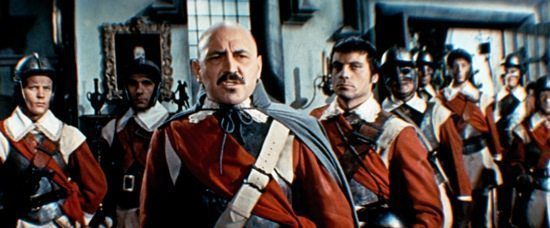 Really, this is a family drama, Colonel Judd (Lionel Williams) leading the Roundheads, the royal pain in his behind a daughter (June Thorburn) who despises him and his Cromwell alliegiance. She proves even more of an irritant when falling for the titular Blade (Jack Hedley), a Cavalier out to rescue the captured king. There's really not much more to this story; instantly forgettable, The Crimson Blade, to give it its alternate title, is only worth seeing for Oliver Reed. Reed portrays the colonel's right-hand man, a manipulative turncoat, with ease.

The Brigand of Kandahar, however, is a more complex affair. An initial hamminess—which is laughable—is forgotten as Ronald Lewis commands the screen as Lieutenant Case, the mixed-race officer at the centre of the plot. Ostracised from his regiment after accused of cowardice by the bigoted Colonel Drewe (Duncan Lamont), he reluctantly joins the Indian rebels fighting against the British, who are led by Ali Khan (a wild-eyed Reed).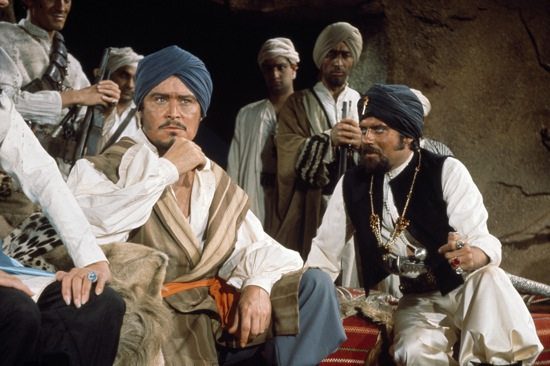 This psychological element, Case struggling with his sense of identity and confused by his natural loyalty to the British, makes for a richer story, but not necessarily a better film; the direction here is rather more clumsy, a little cringeworthy at points, in fact. Also, those looking to be offended will be, on account of the use of blacked-up actors and not a real Indian in sight. But, do stick with it; the ultimate message—that colour discrimination is not okay—is the driving point to the story, and it must be borne in mind that mid-60s England wasn't quite the melting pot it is today.
those looking to be offended will be
The portrayal of the Indians, however, isn't particularly excusable; it's a little baffling that the actors were directed to behave madly, considering the film's raison d'être. A good example of a filmmaker somehow missing his own point, perhaps, which is of course just utterly ridiculous. I can't help but ponder, however, if Gilling believed his 'half-caste' character was only the honourable man he was because of that white blood… An uncomfortable prospect indeed.
So, is this double release worthy of addition to your DVD shelf? No, not particularly. The two good performances (Reed could have been great in The Brigand of Kandahar, but simply doesn't have room to elaborate) are not enough to completely detract from poor direction and basic screenplays, and the packages aren't particularly special, the only extra available an alternate opening to The Scarlet Blade. Disappointing.
---
Naila Scargill is editor and publisher of Exquisite Terror, an academic take on the filmic horror genre. www.exquisiteterror.com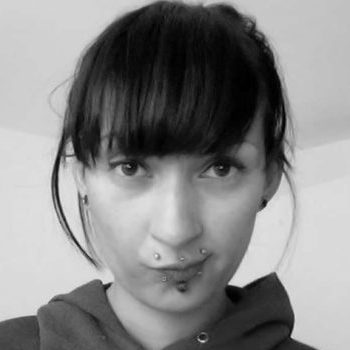 Naila Scargill is the publisher and editor of horror journal Exquisite Terror. Holding a broad editorial background, she has worked with an eclectic variety of content, ranging from film and the counterculture, to political news and finance.