[dropcap style="font-size:100px; color:#992211;"]S[/dropcap]o you've heard a bit about Detroit, and you're curious to take a trip.
Maybe you've got business in Chicago or Toronto, and you want to tack on some extra days' vacation. Maybe you're an urban explorer, who likes to break into abandoned buildings to relive a piece of history and photograph the decay. Or maybe you've gotten on the wrong Greyhound and now you've got an afternoon to kill and you don't fancy spending it in the crippled shell of a Detroit bus station.
Whatever the reason, worry not, there's a place for you in Detroit.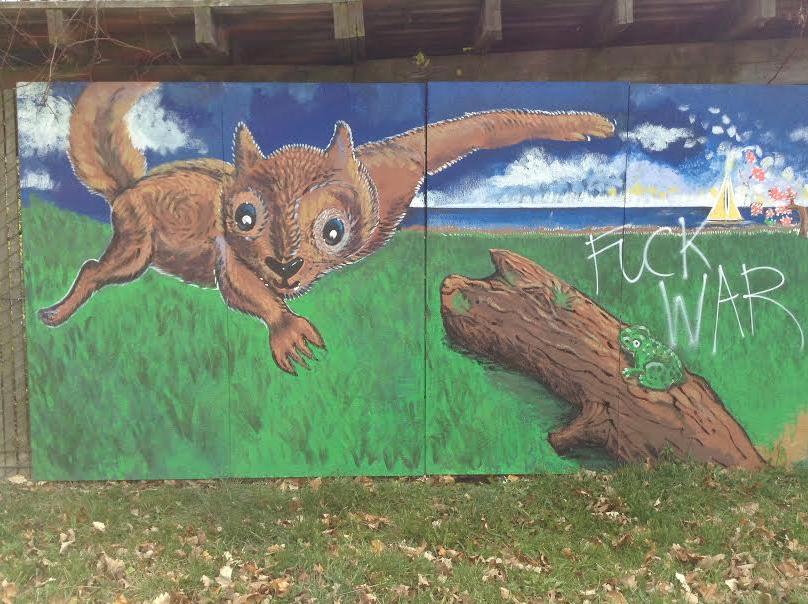 Grafitti at the abandoned Belle Isle Zoo.
Sports
Lions and Tigers, and Red Wings, oh my. Detroit has been a sporting city for decades now, and even though some of its teams have had some rough seasons in the past decade (the Lions are still the only football franchise to have gone completely defeated since the introduction of the sixteen-game NFL season back in 1978, and the 2003 Tigers were the third worst ball club of all time), that just means that it's relatively easy to pick up tickets.
It's not all bad, either. The Pistons won their division four times over the past decade and picked up an NBA national championship in 2004. The Red Wings are consistently one of the best hockey teams in America, and have hoisted the Stanley Cup more than any other hockey team in the country. With the construction of a new $444 million hockey arena downtown, you won't even need to drive to get a taste of the ice.
Art
Detroit has one of America's cultural gems hidden amongst the grit and grime of downtown. The Detroit Institute of Arts has one of the country's preeminent collections of post-impressionist, modern, and post-modern art. Here you'll find everything from Van Gogh, Seurat, Cezanne, and Degas to Picasso, Matisse, and Rodin. Spend some time in the European section and you'll come across a few paintings from Rembrandt and Rubens.[quote]The old Michigan Central
Station, built in the
Beaux Arts style, narrowly
avoided demolition after
a local resident threatened
to sue, citing the National
Historic Preservation
Act of 1966[/quote]
A quick jaunt to the American wing will bring you a couple from Whistler and Church, while a wing dedicated to African American artists (one of the first and only curatorial departments dedicated to the subject) will open you up to a range of painters and sculptors you may never have been exposed to.
Finally, one of the most important pieces to come out of the 1930s: Diego Rivera's 'Detroit Industry', dominates the inner foyer and speaks to the viewer through the ages, painting a vivid scene of the intersection between capital, labor, technology, and humanity. Truly, it is a wonder to behold.
Food
If you're in Detroit on a Saturday, head down to Eastern Market. This six-block, public, open-air market has been feeding the city since 1891, and every Saturday, hundreds of stalls compete for business with everything from food to fresh produce, cut flowers to jams and juice. Most of it comes from Michigan, Ohio, and Ontario, through there is some flown in from other, more temperate, parts of the country. Most of it is seasonal, but you'll still be able to find some hothouse tomatoes in November, if you fancy it.
For a true taste of the Midwest, head to Lafayette Coney Island where you'll find that staple of Middle America: the chili dog, loaded down with onions, mustard, and hearty chili. There are some upscale establishments, but if you're looking for something truly special, check out Slows Bar-B-Q, a hot stop for anyone coming through the city, with a particular focus on civic engagement. No less vaunted a publication as the New York Times has given the barbeque a write-up, highlighting its belief in the community and the restoration of the city.
Drink
I was a bit too poor to engage in much carousing on this latest trip, but if you, like me, are fond of the occasional dive, you could do worse than Detroit. My friends live a couple blocks from an old hole in the wall named Nancy's Whiskey Pub. [quote]Get in while the dirt
and the grime is still
a part of the city.
You can't understand
Detroit without it, and
once it's gone, the
city will be that
much poorer[/quote]Established in 1902 in Corktown, one of Detroit's oldest neighborhoods, Nancy's offers live music on Friday and Saturday nights, and you won't find a better price on beer (if you're a fan of Pabst Blue Ribbon, that is). First timers get a free shot of whiskey, a sort of "Welcome to Hell," that will immediately ingratiate you with all the locals.
If you're looking for some place with a bit more upscale ambience, check out the Grand Trunk Pub. There are a wealth of old speakeasies in Detroit, the Grand Trunk being one of them. All you have to do is sniff them out. Whatever you do, make sure you take a swig of local brews like those from Motor City Brewery, Bell's, Short's, or Dark Horse Brewing. If you're in for something a bit softer, go for home-town originals like Vernor's Ginger Ale or Faygo's soda.
Architecture
During Detroit's heyday, the city seemed to compete with Chicago for the biggest influx of art deco skyscrapers. The city has one of the country's best collections of early 20th century architecture. Unfortunately, most of it is in a dire state of disrepair, and many of the buildings have been slated for demolition, if the city can ever find the funds.
Friends of mine know the current owner of the Book Tower, an Italian Renaissance-style building from the early 1920s. Plans are in the works to rehabilitate the building as a centerpiece of a revived downtown, though work has yet to start. The old Michigan Central Station, built in the Beaux Arts style, narrowly avoided demolition after a local resident threatened to sue, citing the National Historic Preservation Act of 1966. Plans to refurbish it as the Detroit Police Headquarters were scrapped earlier in the decade and the building remains a broken and haunting reminder of Detroit's glory days.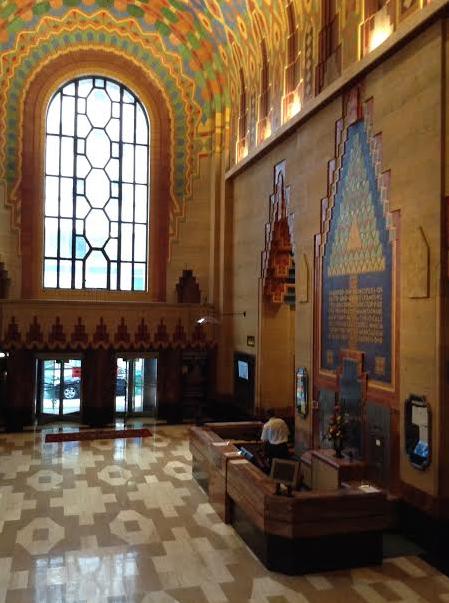 The Guardian Building, Detroit
Finally, the Guardian Building, formerly the Union Trust Building, is a beautiful example of a wildly successful restoration, and now houses beautiful tiles from internationally known Pewabic Pottery as well as several large works by muralist Ezra Winter. Its bold art deco design as well as its close association with the city's financial markets has earned it the nickname the Cathedral of Finance. Take a coffee in the lobby café and try not to imagine yourself as a hard-bitten detective in some gritty film noir.
Nature
You might not think it, but Detroit's place along the river connecting Lakes Huron and Erie presents a beautiful stretch of waterfront that is hard for any other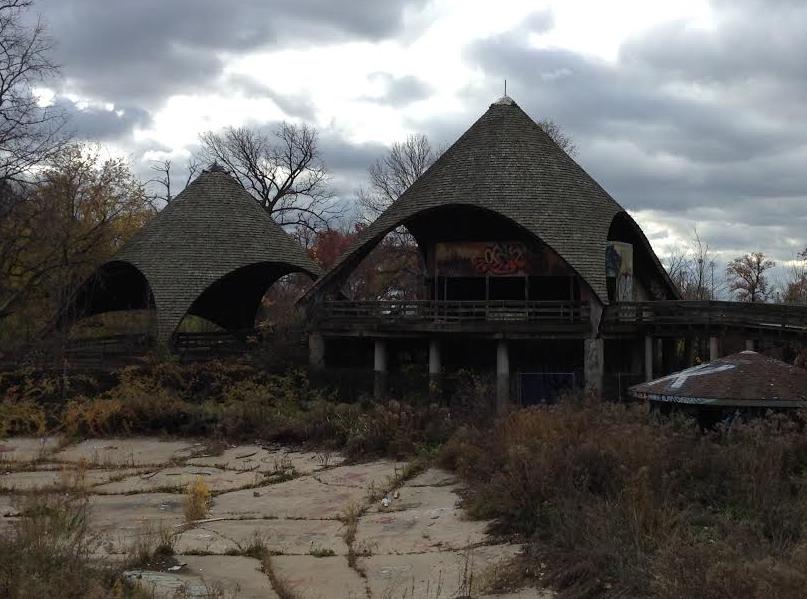 American city to match. Stuck right in the middle of the Detroit River is the 397 hectare Belle Isle State Park. Frederick Law Olmstead, who famously designed New York's Central Park, drew up the original plans for the park (although only some of his ideas were fully incorporated).
The park boasts a botanical garden, the Belle Isle Conservancy, an aquarium that has been refurbished and staffed entirely by a group of zealous volunteers, and the James Scott Memorial Fountain, which commemorates a man who no one really liked. Like everything else in Detroit, you'll freeze in winter, but it's perfectly brilliant from April through October.
Alternatives
Of course, there's more than enough to keep you entertained in the city for a few days, but if you're one to strike out on your own, then check out some of the amazing street art around Eastern Market. The Red Bull House of Art, located just around the corner from the shops, gives up-and-coming Detroit artists a chance to show off their new works. The Heidelberg Project is one man's attempt to stave off the worst of Detroit's collapse by building an artistic community around the abandoned houses in his neighborhood.
The Heidelberg Project, Detroit
Local resident Tyree Guyton uses everyday found objects and reconstitutes them as thematic art incorporating nearby abandoned properties. The project supports emerging artists and young adults in the inner city to challenge their perceptions on art and discover creative outlets to give back to the community.
Finally, if you're ready for a real slice of history, you can tour Ford's River Rouge Complex, one of the oldest and largest factory complexes ever built, measuring in at over 16 million square feet of factory floor. In its prime, it operated its own dock system and boasted over 100 miles of internal rail track. During the 1920s, the factory employed over 100,000 people – a city within a city – and acted as the centerpiece for Diego Rivera's Detroit Industry.
Dirt
So, if you've never thought much of Detroit, let me say that now is the perfect time to think about visiting. With the city on the verge of a historic bankruptcy case, there is a real danger that Detroit will lose many of the things that make it so special. Belle Isle has already been leased off to the state of Michigan, who will oversee its transformation and restoration and inevitably charge for admission to the site – one of the few green spaces formerly freely available to inner city residents.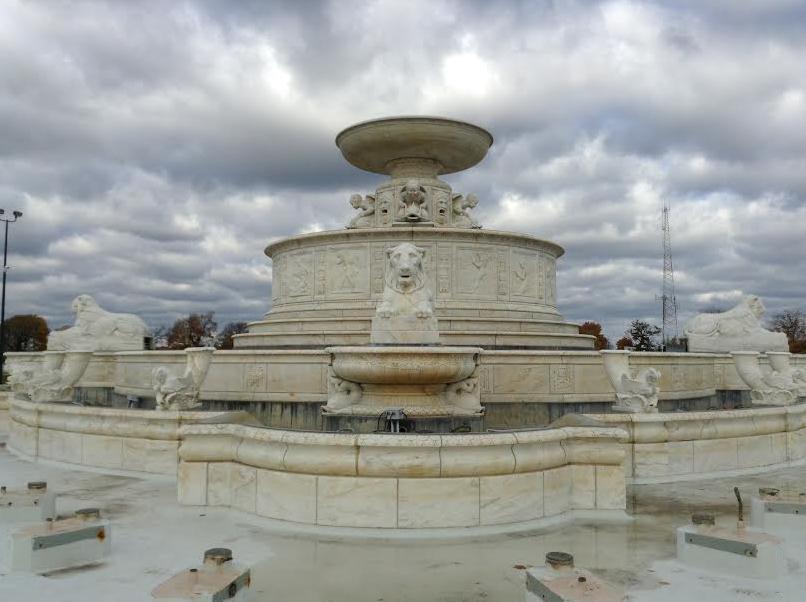 The Detroit Institute of Arts may be forced into selling off some of its most prized possessions, including paintings from Van Gogh, Matisse, and Rembrandt, among others. Christie's auction house has already embarked on an appraisal of the collection. The Heidelberg Project has faced numerous challenges over its 25 year history, most notably the threat of arson. The day after I was there, the House of Soul, a wood-paneled house covered in records from hundreds of various artists, burnt to the ground.
Finally, like any city on the rise, gentrification will start to take its toll on the city's current bohemian vibe. Already, major retailers such as Whole Foods have moved into Midtown, and while we should welcome the city's revitalization, such developments always have a price.
Get in while the dirt and the grime is still a part of the city. You can't understand Detroit without it, and once it's gone, the city will be that much poorer.
Photos by the author. Final image shows The James Scott Memorial Fountain.
[Addendum: On December 4th 2013 the city of Detroit declared bankruptcy. The fate of the Detroit Institute of Arts has not yet been announced.]

Sterling Carter writes on the intersection of political economy, arts and culture, and human rights. He has over five years' experience on African development, violence and conflict with organizations including Human Rights Watch, Global Witness, and Search for Common Ground. He is originally from Flora, Indiana but pulled up stakes long ago.