Anthropomorphic forms and reclining figures appear as you gaze over mazes and walk down leafy ceiling-ed pathways, wandering through different garden worlds; this weekend I went back to my Hertfordshire routes and visited the amazing Henry Moore exhibition at historic Hatfield House.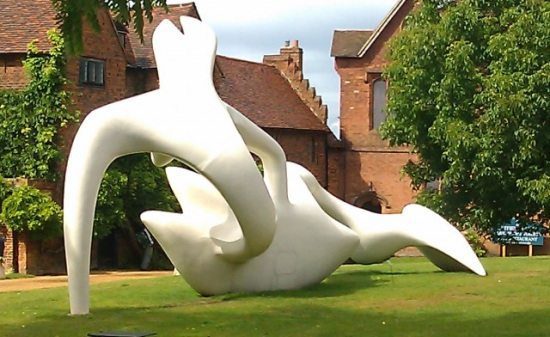 Moore was one of the first artists who really made an impression on me when I was discovering the mind-expanding world of art, so whilst I did not stumble down any rabbit holes, I felt a bit 'Alice-like' as I wandered through the beautiful grounds of Hatfield.
As I traversed the woodland space and kept glancing back over my shoulder, the sculptures seemed to transform and metamorphosise into new forms and possibilities from different angles and in different lights.
A radical, experimental and avant-garde master, a lot has been said about Moore: you can find info about his work and the exhibition on the Hatfield house site. The best way to explain my wanderings is through the photos I took…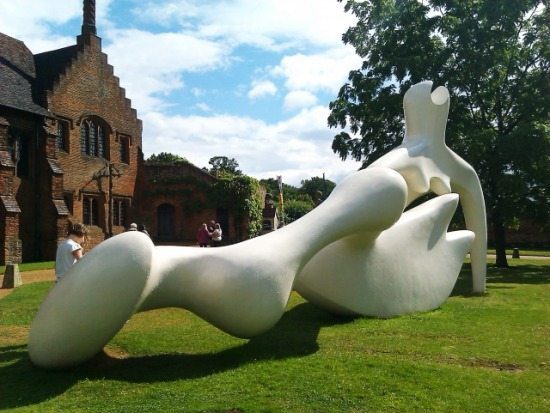 Henry Moore rebelled against the traditional sculptural practice, instead gathering inspiration from non-western works and museum pieces, being inspired by primitive art, new ideas of sexuality, surrealism, and the advent of psychoanalysis . His abstract forms are based on the human body, with a lot of reclining females and mother and child pieces.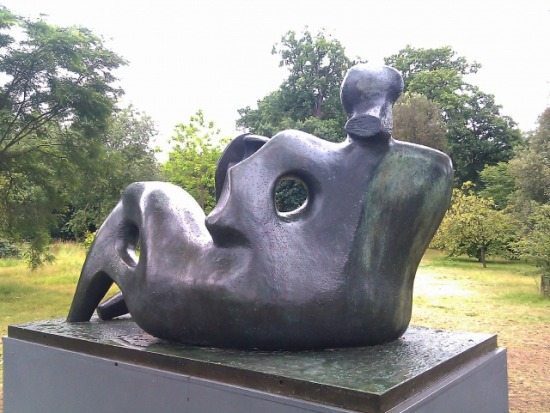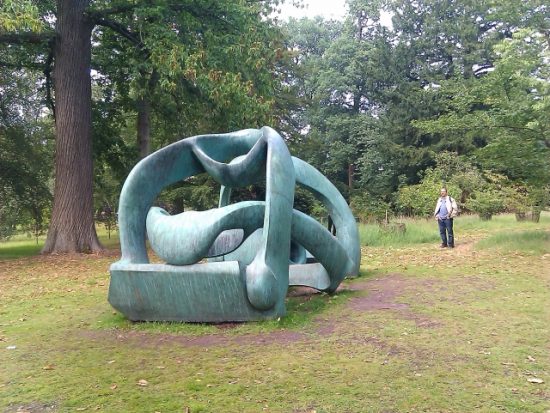 Anthony Barnett, (April 2010) illuminates – "Some critics have suggested that there is an important erotic aspect to his carvings, with their holes and interior spaces, and to his later bronzes, with their apparently phallic extrusions Indeed, from one angle, "Hill Arches" looks like a pair of huge coupling insects."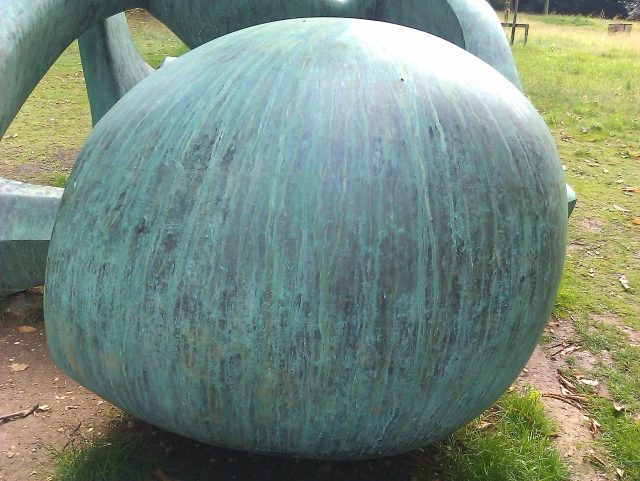 This work, "Two piece reclining figure" appeared like a rugged anthropomorphic beach scene. Rock formations from one angle, transformed into reclining figures from another. I love the really tactile surface of this – you can see the original marks in the clay from before the casting, making it very appealing – we can relate physically to the finger and hand shaped imprints and gouges, bringing us closer to the 'making' process, I could imagine the artist at work.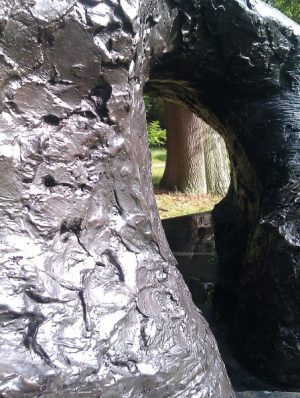 Raindrops reflecting snatches of colour and light off the surfaces f the sculptures: This shot was taken just after a downpour. From certain angles it was like little patches of sky resting on the surface of "Three piece reclining figure: Draped"
Peering through the organic spaces in one sculpture often revealed the next piece in the distance, nestling in the negative space. The curatorial team spent a long time considering the positioning of each piece, and it was worth it. Framed in the apertures of the artworks is a curated view, and this highlighted the fact that Moore did not just sculpt the forms, he sculpted the spaces as well.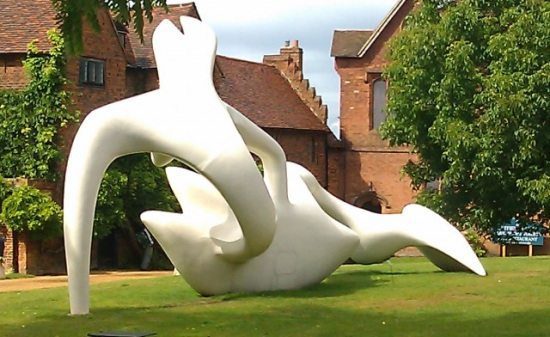 This piece above, 'Large reclining figure', was my favourite. Made of fibreglass, 9m long. It looked like Ivory, I felt an urge to climb on it and slide down the slender limbs (but I resisted).
Beautiful pod-shaped piece, Totem Head, (1968, Bronze, 244cm):
The maze at Hatfield house: "Well, when one's lost, I suppose it's good advice to stay where you are until someone finds you. But who'd ever think to look for me here?" (said Alice.)
"King and Queen" is fantastic – very different to view from the side and the front, and had a very African figure feel to it. A broad front with small details, but then from the side it is very elongated – if it was not for the fairly detailed hands and feet, it would be quite an abstract form of sweeping lines.
The water and the historic grounds at Hatfield House were a great backdrop for the sculptures – the Jacobean and 15th century architecture a bit incongruous at times with Moore's modernist pieces (the main house below would have been built in the reign of King James I), but actually they made the sculptures stand out more – such a different experience to seeing them in a 'white cube'.
Shards of light infiltrating part of the hedge-ringed area…
This was another favourite. "Locking piece" (1963-4, 290cm), I love its chunkiness. It was a very different sculpture depending on the angle. I had a sneaky perch in that 'body shaped' alcove in the middle – ensconced in a Henry Moore.
With outdoor sculpture there are so many changeable factors which enable the artwork to evolve – the light, seasons or weather for example. The surrounding woodland and wildlife adds movement and sound that you would never otherwise get in a gallery setting, and it enables you to be inspired by the combined beauty of both nature and art. The whole thing was a little bit of a treasure hunt, rounding corners to see another monumental artwork emerging, or crouching down to explore a tiny patch of pink orchid-like flowers which were flaunting themselves somewhere in between a gnarled old tree and an immense sculpture. It was many things – an exhibition, a curated journey, a new perspective for me on Moore, an appreciation of British heritage, a treasure hunt, a stroll and a lovely day for a picnic all in one.
And another surprise – tucked inside the palatial grounds of Hatfield House, I stumbled across the lovely little Palace Green Gallery which features works in ceramics and glass, as well as original prints, etchings, screen prints and works on canvas in a brightly lit, open space with vaulted ceilings. A very energetic collection of work and a very high quality – many of the artists were local to Hertfordshire.
For me, the most exciting thing about the sculptures is that every pace around them you take, a new sculpture is revealed, a whole new form arranges itself in your eyes. They are designed to be many things all at once – both in terms of their subjects and their shapes and forms, to their materials. They echo landscapes and rock formations, but then you look from another angle and see a posed lady holding her child.
"If I had a world of my own, everything would be nonsense. Nothing would be what it is, because everything would be what it isn't. And contrary wise, what is, it wouldn't be. And what it wouldn't be, it would. You see?", explained Alice.
On Until 30th September:
Check out Moore at Hatfield on Twitter or http://www.hatfield-house.co.uk/
---
Nicola Anthony is an artist living & working in London, seeking to discover things which make the mind crackle with creative thought. Catch @Nicola_Anthony on twitter or her artist's blog http://www.nicolaanthony.wordpress.com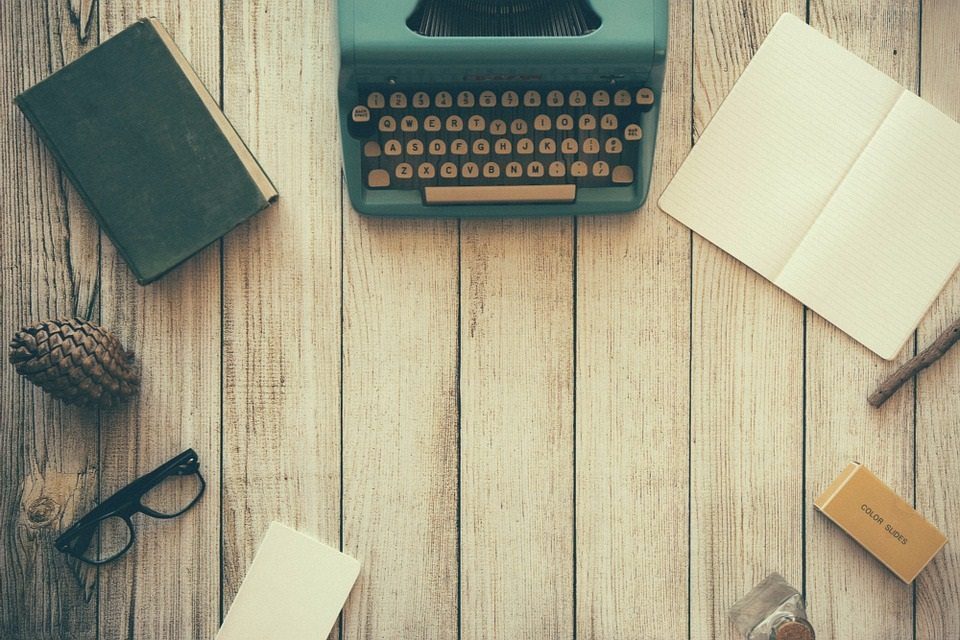 The aim of art is to represent not the outward appearance of things, but their inward significance. – Aristotle