[dropcap style="font-size:100px;color:#992211;"]T[/dropcap]
he Aga Khan Centre Gallery will launch its new exhibition space with
At the Corner of a Dream
, a solo presentation by the Lebanese-Egyptian artist Bahia Shehab.
Shehab's work first came to global attention during the Arab Spring, in which she had an active role in the revolution that swept through Egypt between December 2010 and December 2011 through her ongoing series, A Thousand Times No. These calligraffiti stencil works, which Shehab applied to walls across Cairo during the revolution with spray paints, were inspired by the Arabic saying: 'no and a thousand times no'.
At the Corner of a Dream — Shehab's first solo show in the UK — is comprised of five digital artworks produced by the artist in 2019 about the poetry murals she has painted in four different cities: Cairo; New York; Beirut; and Marrakesh; as well as the Greek island of Cephalonia. These have been inspired by the Palestinian poet Mahmoud Darwish (1941–2008), a line from one of his poems providing the title for the show.
In the featured films, each location corresponds to sites where Shehab created a mural. Shehab views her walls as meeting points and conversation starters. By raising the curiosity of passersby, they serve as cultural bridges, prompting them to ask about the stories behind the writing and encouraging them to stop and ask how they can tackle injustice in their own country, or how they can work for equality and help others live in a better world. The films are presented in an immersive environment across four screens creating a 360° display in which each image is seamlessly adjoined. Alongside, the show includes a site-specific calligraffiti stencil wall work and two vitrines containing paraphernalia relating to her artistic practice.
Commissioned by the Aga Khan University Institute for the Study of Muslim Civilisations (AKU-ISMC), the exhibition marks the publication of a book highlighting Shehab's poetry-based work published by Gingko Press in association with AKU-ISMC. The exhibition also follows the unveiling of a major 30-metre mural called We Will Not Repent, created for Lincoln University in August 2019.
At the Corner of a Dream runs from 27 September 2019 – 5 January 2020 at the Aga Khan Centre Gallery. A preview and book launch, to include an artist talk, will take place on 26 September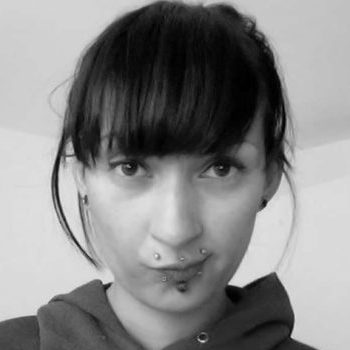 Naila Scargill is the publisher and editor of horror journal Exquisite Terror. Holding a broad editorial background, she has worked with an eclectic variety of content, ranging from film and the counterculture, to political news and finance.