---
---
A

djani Okpu-Egbe grew up in Cameroon and his work often autobiographical also reflects contemporary politics and current events.

Adjani's style is expressive and authentic drawing on a frank use of colour and spontaneous application of paint. There is a surreal strategy in play, combining incongruous objects and symbols to create new meanings and reflect new possibilities. Connecting to both western and African traditions the artist has a hybrid and fresh approach which feels relevant and genuine.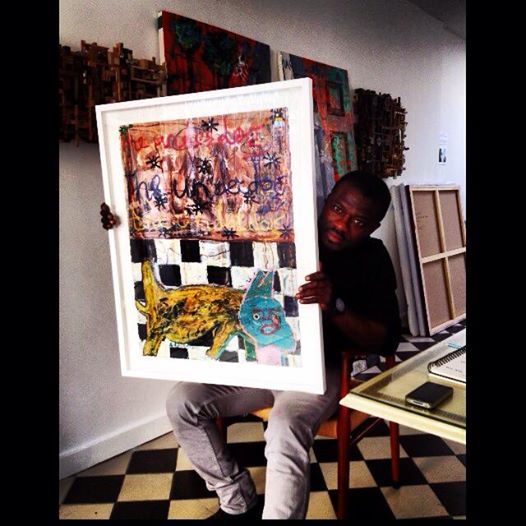 The works have an aggression behind them heightened by scratching into the layers of paint and bold use of colour. The stylisation of the objects and figures is atavistic bringing to mind earlier forms of drawing and representation, figures often appear anguished and in general the pictures are loaded with emotive prompts. This work treads a fascinating line between abstraction and figuration, between social commentary and autobiography.
You can view more works by Adjani at his website HERE
"Following a well received group show "Regarding Africa" in Tel Aviv Museum of Art Israel in 2016, (visit link for a brief TV interview with Tel Aviv i24) INTERVEIW and our first auction sale at Phillips Auction House, London in collaboration with BFAMI, on 16th January 2018, we are organising a "celebratory" exhibition in Battersea from 16th February to 09th March. The event would be Adjani's first solo presentation in London since 2015 and would feature new works from the artists personal collection that has not been shown in public before,"
The preview is scheduled for Thursday 15th Feb from 18:00hrs to 21:00hrs. Please join us to celebrate at Johnson's Picture Framing and Gallery, 58 Battersea Bridge Road, London, SW11 3AG 
_____________________________________
Heading Image "Good Governance"(detail) 120x110cm Mixed media on canvas 2014 (c) Adjani Okpu-Egbe