---
---
Troubador: 263-267 Old Brompton Rd, Earl's Court  London, England SW5 9JA 
Trebuchet Magazine in discussion: with Olly Walker and David Ellis
Made Corrections – is a cross – cultural, trans – media exchange between those in need and experienced practicing artists who seek to use their talents for positive change whilst raising awareness to the passion and talent for the arts that exists within the world's prisons and youth offending facilities.
In 2014, a group of international artists travelled to Lithuania to curate a show centred around the population of a Lithuanian youth prison. Threatened by setbacks, physical hardship, and administrative barriers, they overcame mutual incomprehension with both the inmates and the authorities to stage one of the most unusual and important shows of 2014. An example of presenting art in extreme places, the show, Making Corrections, reflected the complex question of juvenile criminality to inmates, authorities, and the Lithuanian public. It was simultaneously exhibited in the prison and local town, bridging the gap between prison and public, and suggesting reform by inspiration and individual recognition, rather than normalising through punishment. Against a backdrop of penal modernisation and international concern, prison conditions in Lithuania are hard. Despite efforts to improve conditions, change happens slowly, and in the meantime young lives are negated despite possibilities for redirection, perhaps even rehabilitation. For many, putting on a simple show in East London taxes ingenuity and courage to the limit. Imagine then curating a show in an Eastern European prison that includes the inmates as participants within a penal system unused to outsiders. In 2014 Trebuchet followed one of the organisers, OllyStudio aka Oliver Walker, discussing the lifecycle of an ambitious project, working against the grain, heightened by the thrill of dangerous art shown in dangerous places.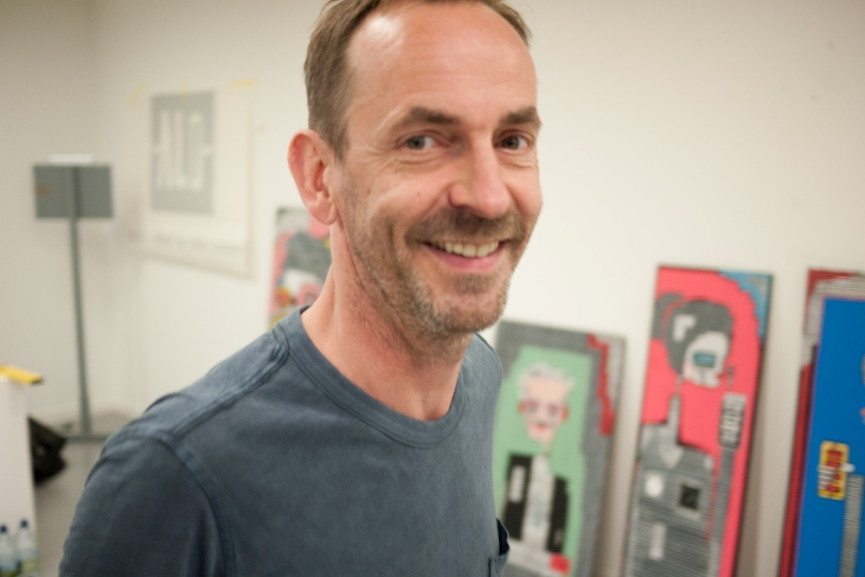 Olly Walker, the founder of Ollystudio, has cultivated a reputation for curating strong shows and artistic collaborations for a range of clients. In addition to the curation of a number of high profile gallery shows in London and Berlin, Olly has collaborated with brands such as Levi's Vintage Clothing, Converse, Orange and artists like Vhils, JR, Nick Walker, Paul Insect, Ben Turnbull, Mode 2, Ben Eine, D-Face, WK Interact and Alexander McQueen. Ollystudio has designed books for some of the best artists in the world and worked with influential galleries such as Saatchi Gallery, Urban Nation and Lazarides.
David Ellis
is a Curator-Performer and serial digresser whose has skirted 'official' European art culture for over 30yrs. Whilst Director of Puzzleclub 1994-1999 he platformed the work of many notable, though previously lesser-known contemporary artists. Between 1993-2014 Ellis embarked on his zig-zag detours through Lithuania acting as both an independent and in tandem with The Horse Hospital www.thehospital.com, I.C.A and Anthology Film Archives. N.Y curating ad-hoc film screenings plus other 'actions' of which Made Corrections was a part. Ellis is currently co- organizing a unique pan-European event in Cluj-Napoca,Romania to mark the reopening of
Cinema
 ARTA in association with the Wim Wenders Foundation and Goethe-Zentrum.
Wednesday November 15th 2017
7pm
Ticket £5 presale £7 on the door
Troubador: 263-267 Old Brompton Rd, Earl's Court  London, England SW5 9JA
https://www.troubadourlondon.com/