[dropcap style="font-size:100px;color:#992211;"]M[/dropcap]ichael Radford is an art photographer and may be also a professional photographer for hire there are definitely at least two websites that present his work and possibly a third kept separate for pragmatic reasons, compartmentalisation is seemingly necessary when your pitching for work among discerning clients. An artist is always at least three things professionally and Michael Radford is artist, photographer, art editor and director of photography.
My first thoughts are about skin and surface both relating to the luminous models and the moody, smooth treatment of buildings and walkways. The colours in the work seems bleached and warm intercut with deep hues, the images are given a kind of exotic feel, like remembering a Michael Mann film they are luxurious even when it's a concreate slab, this effect covers both perfect youthful people and the old jaded faces in the same varnish its pleasing haute-couture stuff and it's clear that he has high fashion photography down evident in the work and the commissions.
My second thoughts come more from exploring his political and philosophical interests which centre around identity and the signs of power its history and present legacy,
"Michael Radford is a lens-based artist currently working in London. His practice brings together  both archival material, and contemporary photographs from the internet and physical archives.  Often using digital manipulation and/or collage to re-interpret the imagery. As well as taking  his own photographs, his practice uses photography to question and/or interrogate the subject  matter, as well as the medium itself, as a representational device. His ongoing research includes  bio-politics, propaganda, imperialism and colonialism," Info from webpage
The only strange or paradoxical thought is that the images are so seductive the fashion shoots the buildings, the objects and the inky pictures of Haiti, this seems to be at odds somewhat with the political attitude as the viewer is drawn into dreamy textures and hues, even the worn-out faces and scarred landscapes are part of an intoxication which is dependent on the nostalgia of old empire and otherness while simultaneously trading on the obvious moral high horse of how wrong it all was and in the case of Haiti is. This though may be particular to me and most people I'm sure will simply appreciate the fine quality of Radford's images.
My Body is everywhere (Haiti Project)
To go into detail then we can consider this ambitious project.
This body of work explores various forms of power in post-colonial Port-au-Prince in Haiti the description from the artist below is framed by a quote from Sartre, 'My body is everywhere: the bomb which destroys my house also damages my body in so far as the house was already an indication of my body' This indicates the artists interest in power structures and the images which make up this project attempt to explore in tasteful black and white the scars of that history perhaps also its repetition in new forms of control and domination,
"The last visible relic of the neocolonial era lays in the north of Port-au-Prince, the HASCO (Haitian American Sugar Company) sugar refinery. HASCO was first registered in Delaware, US on the 5th of August 1912, three years before the Americans occupied Haiti. The Americans officially left in 1934, yet they have remained present with both political and economic interests, creating a system of corporate hegemony," Michael Radford
There is a sense in the work of a used place turned over many times for resources the remains of old colonial buildings or fortifications mixed with new factories and the 'Slave Market' a title, surely a reference to the place name is also a comment on the exploitation and struggle of the contemporary people pictured there.
Michael Radford then is an interesting figure in the sense he sums up the lot of many contemporary creatives. The tension of his practice lies I think in his need to survive and please those who commission him and in his own more radical leanings, where or how often Sartre comes into his day when he's shooting porcelain models in expensive clothes is any bodies guess. It will be interesting to see if this tension gives way to either great art or great seduction, the games on.
Artists Website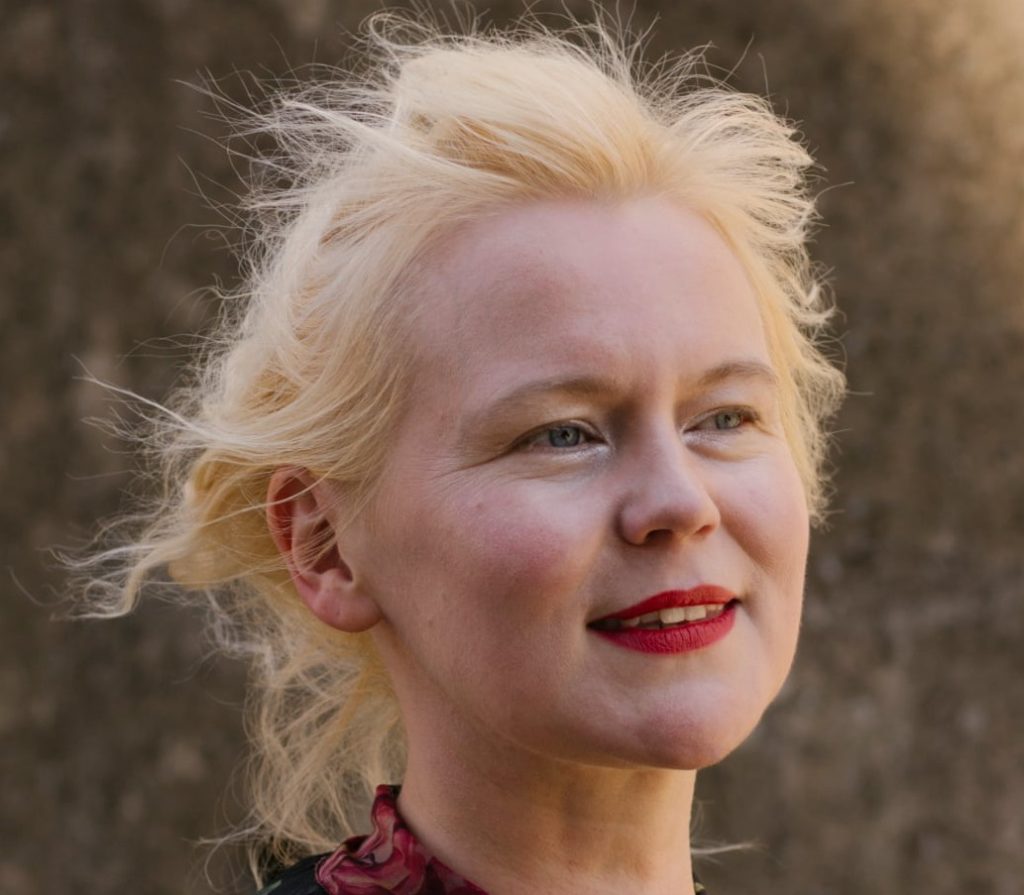 Natalie Andrews is an artist working with a range of mediums, she has shown her work at the Hoxton Arches in London and is currently working on a number of 3d works alongside painting exploring the links between painting and sculpture;
"I am interested in the way that we relate to one another and with space, how the environments we inhabit structure and dictate these relationships and create both opportunities for emancipation but also the deep alienation and separateness."