[dropcap style="font-size:100px; color:#992211;"]H[/dropcap]ilarious, simple and sensational. Les Claypool has always done interesting records but this one has the feel of some very talented dudes jamming for friends.
It's a weird thing to describe any Claypool record as intimate, but on Four Foot Shack we get a glimpse into his natural psyche. A normal shitty band's intimate recordings are normally tear jerking affairs of lost loves, sloppy acoustic playing, and self-indulgent loneliness marked by the general crappification of their radio hits.
The twang-ridden cornpiece of a genuine original
Depending on your perspective this defiantly intimate record is no different, in fact in many senses it's worse; it not only smells of fish, it mentions it.  This porthole into the twang-ridden cornpiece of a genuine original (who wilfully underlined the cardinal rule that corn rows never belong on a white man) shows that underneath the amplified patois of this bass monster is what we've always suspected: more bass… yet even more funk (with an unsuspected twist).
This record could easily place in top five records that Claypool has ever done (others being: Pork Soda, Riddles are Abound, Big Eyeball, and Frizzle Fry). The more observant reader will note that this selection is heavily weighted towards 90s material, (bar Big Eyeball which is a masterpiece and contains one of the greatest guitar solos ever recorded: Buckethead on 'Buckethead' : recontextualising his solo from 'Welcome the Jungle' by Guns 'n' Roses, as a fowl homage to his former master)  and so what? That was his best stuff. His other, often newer, material has been good, pushed into new territory, vanquished teen fears and the sodden tissue tigers hiding under the bed, but never had the same lung filling awakening of those first post-natal inhalations.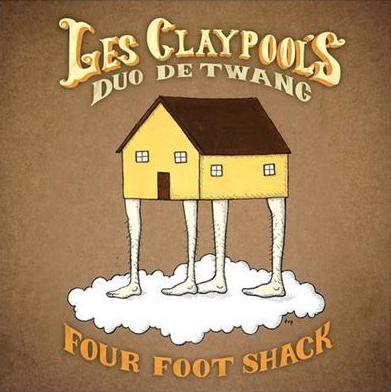 On Four Foot Shack Claypool isn't heading into unknown territory exactly, he's made acoustic stripped-down records before, but this time he's drawing us into his interior world circa 2013. Right now he's revelling in being at home with his friends, sharing a laugh and keeping it real musical; no moshing, perhaps a little silly barn dancing with the young'uns, probably some dips. The women folk bouncing new'uns, talking colic, the convenience of expression and that newly discover'd historical fiction novel they love. It's warmth itself and if it has the musical equivalence of musty woolens THAT is what we mean by intimate.
Succumb to the Twang
"The Twang project is me exploring a lot of stuff that I personally listen to; Johnny Horton, Vernon Dalhart, Jerry Reed, Bob Wills, Eddy Cochran stuff like that – it's another door for me to open. I'm doing this sort of Luther Perkins, Johnny Cash guitar-ish type part on my bass, by doing the old ding-dinka-ding, dinka-ding-dinka-ding on a lot of the stuff. It took me a little bit to get that.
Now that I've gotten it, I can pull songs out of the air and it's surprising how many songs easily succumb to the twang, and can be complimented by the twang. When all is said and done, it's just a hell of a fun project for me right now. I'll do it 'til it's not fun anymore."

Four Foot Shack is a rewarding listen for musician and lassiez faire listener alike, both Les and his partner in twang Bryan Kehoe, are consummate musicians and on this record they've channelled muchos acousticity, creating an accessible work of timeless appeal.
I know I'll be playing this for years to come but will it become a hit? Will they add a fiddle player or pump organ for a sequel? I hope so but it's hardly likely. Four Foot Shack is a true humble gem of a record and as all fans of Primus will already own it by now, why am I even writing this?
There will be someone out there, bored by the usual, willing to listen to a bluegrass barn-dance inspired acoustic record that contains covers of the Bee Gees and Alice in Chains.
For you rare reader, for those about to twang, I salute you.
[button link="http://lesclaypool.com/news/ " newwindow="yes"] Les Claypool[/button]