[dropcap style="font-size:100px;color:#992211;"]S[/dropcap]
ims Reed Gallery present an exhibition of fine art prints and original works on paper by the internationally renowned American artist Dale Chihuly.
While celebrated for his pioneering glass installations, drawing has always been integral to Chihuly's artistic practice. Drawings became an increasingly important means of communicating his ideas to his team after losing the sight of his left eye in 1976. These works evolved from charcoal and graphite studies into wilder, colourful pieces that according to the artist remain a crucial part of his creative process, without which the glass works would not have progressed in the way or at the speed with which they have. He describes the exchange of energy between the two as a flow of ideas, commenting that "drawing is a fluid process", like the blowing of glass.
This exhibition, which is comprised of 29 original prints and 10 original works on paper, seeks to reveal the elision of these two disciplines. Some of the prints draw on his sculptural series, such as Baskets, Niijima Floats and Venetians, for inspiration, while others are purely imaginative.
The featured prints range from woodcuts, hand-coloured screen prints and lithographs, as well as many embellishments incorporated into the production of each. Says Chihuly, "I want people to be overwhelmed with light and colour in some way they've never experienced." These qualities, along with his two other guiding principles, asymmetry and irregularity, can be witnessed in the displayed works. For example, Echo Floats (2018), is formed of two swirling daffodil-yellow and iridescent violet spheres with speckled centres set against a spring-green background. It also mirrors the grand, spherical form and blended-colour surfaces that is found in the artist's acclaimed Niijima Float series, which he commenced in 1991.
In other original works presented, Chihuly's dedication to experimentation is highlighted. His delight in stretching the limits of whatever media he works with is particularly evident in the Ikebana drawings (1998 and 2009), in which the artist employs an innovative technique of burning directly into the paper.
Dale Chihuly Prints and Works on Paper runs at Sims Reed Gallery from 25 March – 1 May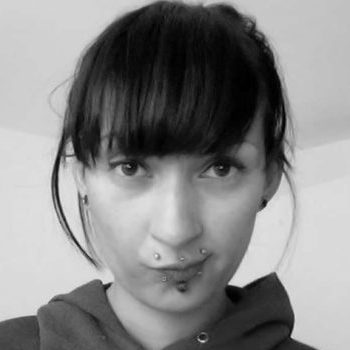 Naila Scargill is the publisher and editor of horror journal Exquisite Terror. Holding a broad editorial background, she has worked with an eclectic variety of content, ranging from film and the counterculture, to political news and finance.