[dropcap style="font-size:100px; color:#992211;"]A[/dropcap]aaaaaaah, Bloodstock – it's nice to finally arrive, fresh from an early shift at the day job, for a second consecutive year!
Municipal Waste are Municipal Waste. A simple statement on the face of it, yeah, but they have a knack for consistently turning a crowd into scampering kids again, amid hollers of 'Municipal Waste is gonna fuck you up!' (joined with banterous zeal  by 'Municipal Waste is gonna suck your nuts' by the end of the set, courtesy of Bloodstock's finest wits).
[quote]several brave(?!)
rounds of the
festival's favourite
sport: 'bin jousting'[/quote]
Technically, the crossover four-piece are good without being exceptional but the crowd's enthusiasm makes their set one of the highlights of the weekend, as anyone (anything?) with the slightest inclination is hoisted aloft for a crowd-surf, crutches or wheelchair no object.
If their robust pits were an ill-advised workout after knocking back a generous amount of mead, Municipal Waste did what they promised. They came, they (well, Tony Foresta) hollered at us for a bit, they partied – and with every bloodied nose I saw came a massive smile below it.
On the Sophie Lancaster stage a little later, Xerath cranked out their last ever gig with guitarist Owain Williams to a packed and boisterous tent. While the grooving riffs were cool, Richard Thompson's facial contortions were really something special. Apparently the Bloodstock crowd liked his face-pulling though, as the frenetic metallers jabbed them into movement admirably.
Back over on the main stage, Accept offered a complete change of pace from Xerath. However, their brand of speed metal goes down in a similarly successful manner. The Bloodstock revellers, in fine voice by now, sang along and yelled their appreciation at the Germans, who were only too happy to oblige with fan favourites such as 'Balls To The Wall' and ending on a rousing rendition of 'Fast As A Shark'.
Sophie Lancaster headliners Scar Symmetry cause the tent to completely go off. And I'm not talking 'go off' as in go stale or whatever, I mean GO OFF! There's definitely something to be said for the level of energy the Swedes throw onto the stage, and they definitely show what a duo-fronted band can do in terms of driving a crammed, plastic building filled with headbangers nutty.
By the end of their set, the beer is flowing freely in the arena and the next act (Pritchard vs. Dainton) is actually starting to look like a good idea… despite their habit of stapling, well, THINGS to things.
If you're a King Diamond fan you should probably look away now, because you've heard what I'm about to say before. The theatrics and production values of the set were great, as you'd expect from a Bloodstock headliner, as was the musicianship. King Diamond's vocals, however, were not great.
I'm familiar enough with the Bloodstock forums and Facebook page to have been aware of the 'love or hate' relationship with King Diamond beforehand, but no amount of preparation could suppress a wince at the latest off-key shriek. A set that was a spectacle in a very visual sense of the word, then.
Saturday dawned painfully – after conquering the hell out of the rest of the mead the night before – and Stormbringer's work is properly cut out for them in their main stage opening slot. Unfortunately, they never really rise to the occasion and, in particular, Mike Stockley's vocals are a little lacking and tame in the falsetto department.
Having encountered them before around my local live scene, I know they can do better. Perhaps they are better suited to smaller venues, or perhaps it was just an off day for the Northamptonshire lads.
Up later came Beholder, who seemed to be in much better form with a commanding performance to grab the hungover (and, let's not forget, those stouthearted enough to drink a generous measure of rum for breakfast. Ahem.) crowd and shake some riffs into them. Simon Hall's beard was also pretty commanding, but the top-notch guitar workout is perhaps the stand-out feature of a properly delivered British heavy metal set.
Hell were one of the real surprises of Bloodstock – considering their placement halfway up the stage's lineup, they put on one Hell of a spectacle (oh no he didn't), complete with huge pipe organ and a variety of other over-the-top props and costume changes worthy of last-year-headliner Alice Cooper.
It is very easy to see why this isn't Hell's first coming unto the Ronnie James Dio stage, as who doesn't like watching a frontman skittering about on stilts? A fan-winning performance, here. Hell yeah.
One of the lads in Balls Deep had stopped by my campsite the night before and said hello, so I decided to head on over to the 'little orange one' and check out their set on the Jagermeister stage. They turned out to play a brilliantly ferocious, 'no bullshit metal' (in their own words) set which drew an impressive crowd to the little stage and coarsely coaxed the assembled into roaring the band's name in a filthy feat of stage presence.
As their Bloodstock set also marked their debut album launch, Balls Deep are definitely one to look out for in future.
Back on the Ronnie James Dio (main) stage Gojira played a set that was definitely a highlight of the weekend, despite their lost baggage/technical difficulties (which they didn't moan about as much as other affected bands) thanks to Lamb of God's heroic gear-sharing. Fan favourite 'The Heaviest Matter Of The Universe' is a particular highlight of a well-constructed set, and a Randy Blythe cameo has the crowd on hot coals. Gojira were a heavily anticipated addition to this year's lineup and they nailed it.
Lamb of God's first UK appearance since Randy Blythe's indictment is (as can be said about *almost* every festival headliner ever) another matter of great anticipation, yet is not without its hiccups. After a deafening crowd response to kick the set off, a broken barrier during 'Ruin' does for the Americans' hard work rabble-rousing, and marks a torturous gap of several minutes.
This takes a lot from the atmosphere, and a number of those more curious than committed to seeing Lamb of God (read: those wanting to ogle Randy a bit)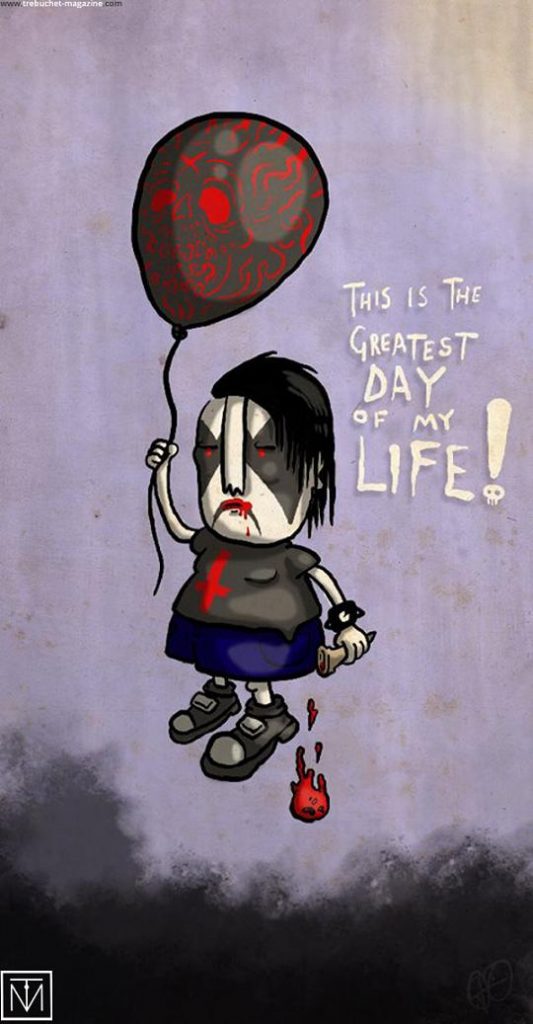 take the opportunity to sneak off for a drink. The band seem to run out of steam a bit after this, but soldier on anyway until running into more difficulties later on. A bit underwhelming, if I'm honest, especially when compared to other LoG festival appearances such as last year's Download.
Come Sunday morning, your Trebuchet team were a little worse for wear, after Bloodstock's famous… erm, what was it that happened after Lamb of God? After only half a bottle of rum and a mouthful of Lucozade mixed into a fiendish breakfast cocktail, we tottered off to Gama Bomb. Considering that the previous night, Bloodstock had done enough drinking to keep a recycling plant happily occupied for several decades (…if the bins were intact following several brave(?!) rounds of the festival's favourite sport: 'bin jousting'), the Northern Irish thrashers had a great crowd.
Regardless of how many people show up to an early slot, it takes real finesse to negotiate such an exquisitely hungover audience – and Gama Bomb walk the line between 'headbang' and 'sick on your shoe' impressively. It seems fitting to start a day headlined by Slayer with a good, solid thrash set.
As did Kremated, with their intriguing blend of horror-thrash, threatened to burst the New Blood tent's PA in an aggressively entertaining display of mental.
A little later on the main stage come Whitechapel – a pleasant addition to the Bloodstock bill for an advocate of well-executed Deathcore. From the start of their set, though, there's a lingering feeling that it's all a bit too… well… light for a Whitechapel gig. Their performance is tight, and their technical battery is powerful enough to scare toupee owners within a several mile radius into exile.
A sizeable nugget of fans really get into the swing of fists… erm, things, but still that pesky sun rock-blocks me. It just doesn't seem as bleak and aggressive as the malevolent shrieks and dropped tones would have me feel when it's this bright. Maybe a tent slot would serve better next time.
Up next are Sacred Mother Tongue – a band I've encountered with increasing frequency of late, and no bad thing. Unfortunately, their hard rock sensibilities flavoured with sumptuous guitar-work don't quite get the Bloodstock crowd fired up today, and I'm left a little disappointed at what is essentially a forgettable set. A wander towards the New Blood stage yielded Neon Halo, who were of mild interest but, alas, also forgettable.
Any number of Black Sabbath stouts later (you could put any number is this box [  ] and I would believe you) I found myself cavorting around like a crab to the efforts of Evil Scarecrow, and their genial 'Crabulon'. The fun didn't stop there, with each new song bringing fresh insanity to the Sophie Lancaster stage. 'Robototron' brings robot dancing, before a cover of 'The Final Countdown' threatens to burst the stage with the volume of those roaring along. Gentlemen, see me for your medals.
A little later on, Anthrax burst onto the mainstage armed with that resplendent back catalogue of theirs, and tore into the horde before them with ferocity. As for the horde, we were just pleased we'd managed to land what was immediately obvious as one of Anthrax's 'good days'.
Dispelling all question of their lately patchy performance record, hits such as 'Caught In A Mosh' and 'I Am The Law' plant the muddy revellers right firmly back into adolescence. Horns firmly raised. Thrash is the law from this point onwards; and you don't fuck around the law!
SLLLLLLLLLAAAAAAAAAAAYYYYYYEEEEEEEEEEEEERRRR!
There we go. You had to let me have just one. It's getting a bit hard to review Slayer, really, as they're a very consistent live act. They consistently slay (I solemnly swear that's the last crap pun), but that does leave them in a bit of a pickle as to how they step it up for a slot of this magnitude. The honest answer is… they don't.
Bloodstock are well-versed enough with the Californians' back catalogue that the atmosphere is the best of the weekend. If it is possible for one to 'sing' along with Slayer then that's what everyone's doing, and classic after classic is pumped out to bring the weekend to a satisfactory close… after a few more beers.
Artwork by Adam D Grant

Jed the Music Ed. is a Music Promoter/Booking Agent and general fixer with Rawkus Events. Jed's interests include a constant and reckless over-caffeination, irrationally spontaneous travel plans and maintaining an over-expensive (borderline hoarder) PC/retro gaming habit.