Sankara: Guided By Degrees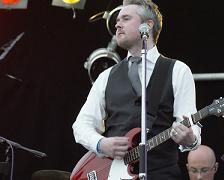 It was a bit of a shock to learn of the abrupt sacking of Gareth Jones and Vinden Wylde from Cardiff rock band The Reasoning back in 2009.
But it wasn't long before the pair of them bounced back with a brand new project, Sankara. Jay McDonald and Rhayn Jooste from the recently imploded celtic folk-metal band The Bluehorses soon joined to complete the lineup, and a well-received four-track EP Enigma appeared in 2011. After a first few live appearances, the band have now unleashed their first full-length album, entitled Guided By Degrees.

Much like their first
LIKE Trebuchet to see this article in full.
It is a small way of monetising the site to reach a wider audience (pop-up window required)
Feel free to unlike us later but thanks for watering the plant this time.
Ps. Sometimes the cookies have trouble. If so unlike below then re-like to view the article